2021 Jeep Lineup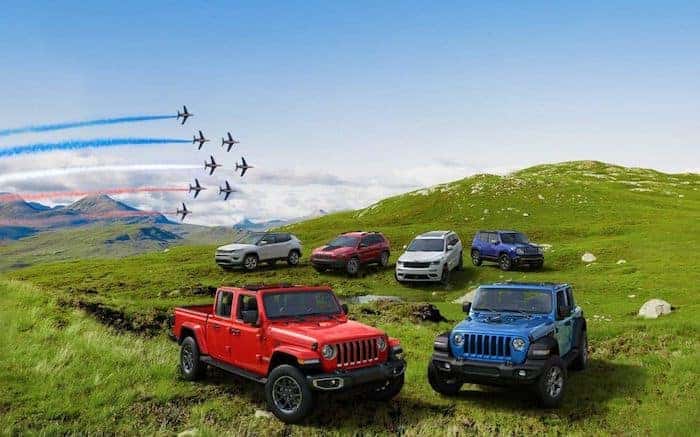 Jeep enthusiasts have been desperate for more information on the 2021 Jeep lineup, and it's not hard to see why. With so many new models and improved favorites, you can't blame us for being excited!
Jeep has consistently been providing the general public with adventurous, reliable, and downright good-looking models for years – and 2021 is no different. Georgetown, Kentucky area Jeep lovers can look to Dan Cummins Chrysler Dodge Jeep RAM for news surrounding the 2021 Jeep lineup.
What to Expect from the New 2021 Jeep Lineup
2021 Jeep Grand Cherokee
You read that right. The beloved Jeep Grand Cherokee is getting a major makeover for the first time since 2010. There are even spy shots to prove it! The 2021 Jeep Grand Cherokee has been expertly camouflaged, so it's difficult to make out exactly what's in store, but we can see that that it's sure to be something special.
The 2021 Jeep Grand Cherokee will feature a longer wheelbase and a longer rear overhang, increasing passenger space and maximizing cargo space at the back. Inside, it's rumored that this iconic SUV will offer a few plush features, improved tech, and a number of advanced driver-assist features.
2021 Hybrid Jeep Wrangler
The 2021 Jeep lineup is already offering plenty to love, but the 2021 Hybrid Jeep Wrangler promises so much more. This new Jeep plug-in hybrid will be known as the Wrangler 4xe. It's rumored to share similar technology as the Chrysler Pacifica Hybrid, which offers 33 miles of electric range on a single charge.
2021 Jeep Wagoneer and 2021 Jeep Grand Wagoneer
The most interesting rumor surrounding the 2021 Jeep lineup has been the resurgence of the Jeep Wagoneer and Grand Wagoneer. This rumor is officially confirmed! If you've been searching for a practical family-hauler, the Wagoneers promise plenty. With three rows of seating, there's room for everyone to come along for the ride.
Production on the Wagoneer and Grand Wagoneer won't begin until 2021, so we can likely expect these highly-anticipated models on the showroom floor mid-year.
Keep an Eye Out for 2021 Jeep Models at our Georgetown Dealership
When the new year arrives, so will plenty of new and refreshing 2021 Jeep models. If you're interested in any of the vehicles in the 2021 Jeep lineup, be sure to keep an eye on our inventory. If you have any questions, please don't hesitate to contact us at our Georgetown Chrysler Dodge Jeep RAM dealership today.