8 Best Restaurants to Check Out While in Lexington Kentucky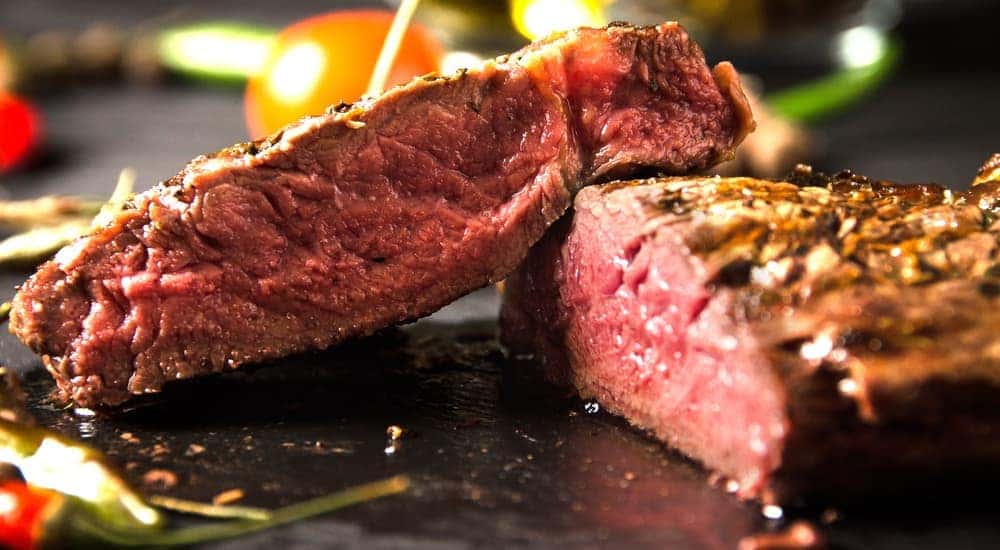 Please be aware that locations may have limitations or changed hours do to health concerns. 
People will often quote that our beautiful city has the most restaurants per capita than any other city in the United States. While this may not be entirely true, as no one truly knows, there are definitely tons of restaurants around the area! If you are new to the city and looking for good restaurants, you are in the right place, since we will be discussing the eight best restaurants to check out while you are in Lexington.
8 – The Blue Heron Steakhouse
If you are looking for steak, you've found the perfect option right off the bat! The Blue Heron Steakhouse is the restaurant of choice for true steak lovers. The signature dish of the restaurant is the Porterhouse steak for two, so it is the perfect spot to frequent if you have someone else to share the magnificent cut with. The southern chic ambiance in a renovated historic building is a sight to behold in and of itself, but the food simply makes it so much better to be in. If you aren't interested in the steak, you could also try the fried chicken, oysters, Caesar salad, premium beef, or fried white anchovies. To accompany your meal, you are able to select wine from the restaurant's 50 bottle collection. You can find The Blue Heron Steakhouse at 185 Jefferson Street in Lexington, KY, and ring them at (859) 254-2491.
7 – Middle Fork Kitchen Bar
Coming in at number seven would be the Middle Fork Kitchen Bar. The restaurant is renowned for its location, a repurposed distillery that pays homage to Kentucky's pride in bourbon. Which distillery, you ask? Well, that would be the old James E Pepper Bourbon Distillery on Manchester Street. The kitchen bar features a spectacular open kitchen concept with few walls to get in the way of the atmosphere. The Middle Fork Kitchen Bar has become one of the most popular spots around, so it is recommended that you reserve your table before frequenting the eatery. You can find the location at 1224 Manchester Street in Lexington, KY, and you are able to get in touch with them at (859) 309-9854.
6 – Tolly Ho
Landing a solid number six spot on the list is Tolly Ho. The restaurant is located near the University of Kentucky. The spot has earned a reputation
for being the best burger joint in town. Tolly Ho used to be on the University of Kentucky campus itself, and it is proud of this fact, as shown by its memorabilia on the walls referencing the local fraternities. You can find a great burger or filling breakfast at Tolly Ho any time of day, and you can pass the time with the pinball machine at night. If you're searching for filling food without all the glamour of a true restaurant, this is the place for you. You can find Tolly Ho at 606 South Broadway in Lexington, KY, and reach them by phone at (859) 253-2007.
5 – Dudley's on Short
The critically acclaimed Dudley's on Short has earned the number 5 spot on our list. While Tolly Ho is the spot for big, quick meals, Dudley's on Short is the spot for ambiance and atmosphere. The restaurant, located in Lexington's business district, was completely renovated in 2010. The establishment offers fine dining in an antebellum setting, making it a great spot for a romantic dinner. It is one of the most prominent structures in the downtown area, as it has strong historical ties. The building was originally constructed in 1889 and retained its 19th-century aesthetic. The menu is quite diverse, offering anything from oysters to spring lamb, which is their signature dish. You can frequent Dudley's on Short at 259 West Short Street in Lexington, KY, and reach them by phone at (859) 252-1010.
4 – Ramsey's
If you are looking for Kentucky-style cooking, Ramsey's is the place to be. It's a family-oriented restaurant with a rustic aesthetic that is meant to evoke the feeling of being served a home-cooked meal. The menu consists of thirteen entrées in total, including meatloaf, country fried pork chops, and pan blackened catfish. Each entrée includes an assortment of vegetables as well. There are 23 choices of vegetables to choose from; some options include fried okra, baked potatoes, pinto beans, and creamed corn. Ramsey's also provides salads, sandwiches, and all-day breakfast options. You can stop by at 151 West Zandale Drive in Lexington, KY, or ring them at (859) 259-2708.
3 – Carson's Food & Drink
Carson's Food & Drink is casual and rustic, making it a great place to relax while you enjoy a spectacular meal. You'll find amazing chandeliers, leather seating, as well as brick and wood interior elements that create a speakeasy feel. The top-notch chefs prepare gourmet pub food with slight variations to keep you guessing. Prohibition-era cocktails are great to accompany your meal as well. The menu includes lunch items such as soft shell crab BLT's and brunch options include breakfast potatoes, robust scrambles, and Bloody Marys with delightful garnishes. You'll find live jazz music on weekend nights and on Sunday brunches. The restaurant can be found at 362 Main Street in Lexington, KY, and can be called at (859) 309-3039.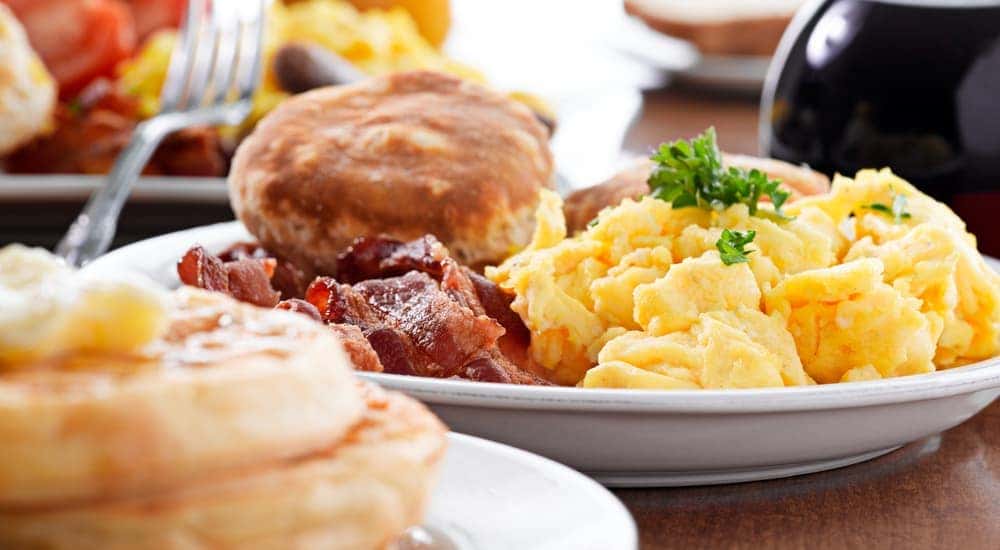 2 – Saul Good
This upscale pub serves a wide assortment of burgers, sandwiches, pizzas, and salads. Why stop there? They also offer plentiful dinner plates if you have a larger appetite for the meal. Saul Good's special, chicken and waffles, ought to do the trick. The restaurant is also famous for its spectacular custom cocktails, such as the New Orleans and the Cranberry Pomegranate Sapphire. Saul Good can be found opposite Shakespeare & Co. and is great for lunch or dinner. The address to stop by is 123 North Broadway, Northside District in Lexington, KY, and you can call them at (859) 252-4663.
1 – Lockbox
If you've made it this far, you are probably looking for the best of the best. You should try out Lockbox. It is set inside the 21c Museum Hotel in Lexington. The restaurant houses marble floors, decorative plaster designs, and large windows to gaze out of. It's a wonderful place for a romantic dinner for two. Original, commissioned artwork is exhibited throughout the restaurant to view as you dine, and dinner is served in the lounge and dining rooms. The restaurant is quite large, so you won't find yourself waiting long to be seated. The food consists of some of the highest quality items around, as it is all sourced locally, and you would be amazed by Lockbox's selection of the finest Bourbons and Ryes in Kentucky. You can stop by at 167 West Main Street in Lexington, KY, and reach them by phone at (859) 899-6860.
You've Made It!
There you have it, the eight best restaurants to check out in the Lexington area. There is something for everybody, and this list should give you a wide array of eateries to choose from. Whether you are looking for a big breakfast, juicy steak, or upscale restaurant, Lexington has a spot for you.