Better For Your Budget: Used Chevy Equinox vs Chevy Traverse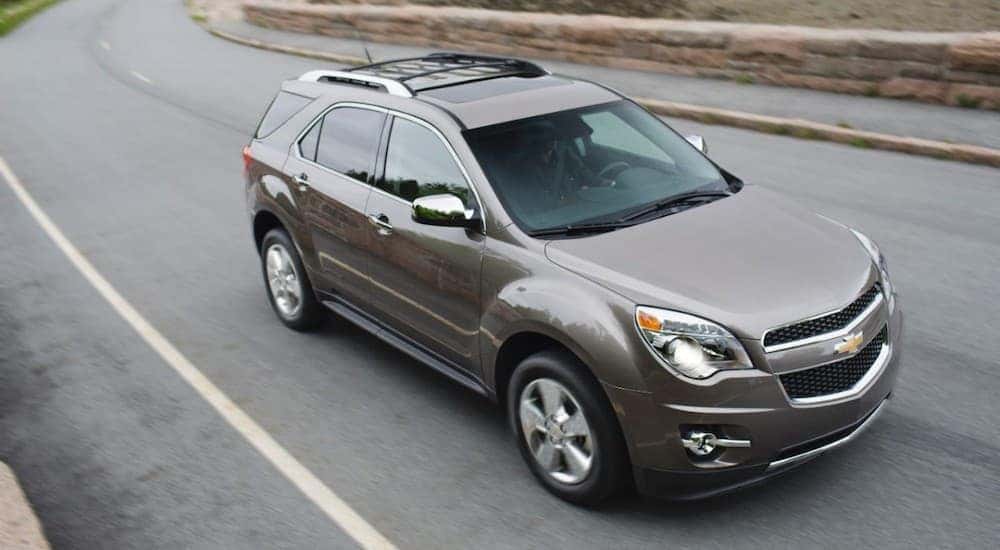 Are you a Chevy enthusiast hunting for used cars near you? Looking specifically at something to drive the whole family around in? Maybe you're in the market for an SUV? Well, if you have set your eyes on the Chevy Equinox and Chevy Traverse, but you can't quite decide on which one is worth the financial plunge, we'll give you a rundown of what you can expect from each vehicle.
The Current Chevy Equinox vs Chevy Traverse
For the sake of comparison, let's take a quick look at what the current Chevy Equinox and Chevy Traverse have to offer. The Chevy Equinox is the smaller of the two vehicles, providing seating for up to 5 people. This model comes in at a starting MSRP of $23,800. The Chevy Traverse, on the other hand, seats up to 8 people and comes in at a starting MSRP of $29,800.
The 2020 Chevy Equinox produces a max of 252 hp, can tow up to 3,500 lbs, and has a fuel economy of 26 MPG city and 31 MPG highway. The 2020 Chevy Traverse produces a max of 310 hp, can tow up to 5,000 lbs, and has a modest fuel economy of 18 MPG city and 27 MPG highway. Overall, both of these models have a good performance, and you can expect to find similar results on the used models as well.
Chevy Equinox Trims and Features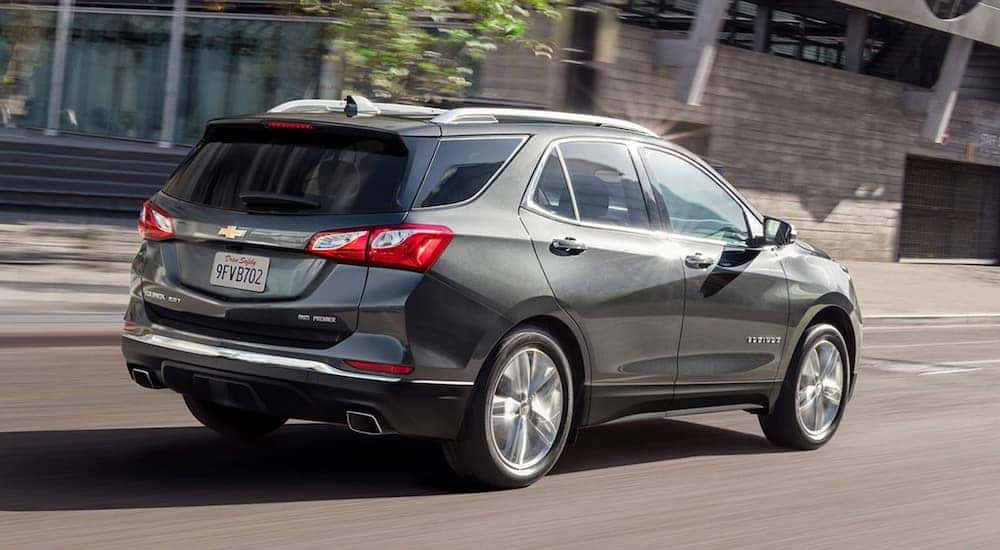 The Equinox is a fairly new addition to Chevy's lineup of crossover SUVs. It's only a few generations deep into its brand lifespan, which works to benefit car shoppers looking for something relatively modern and on the cheaper side when it comes to used offerings. It seats five and comes in both front-wheel and all-wheel drive options. As is usual with most vehicles offering optional powertrains, you will expect to pay a little more for the all-wheel drive option, but you'll also gain additional off-road capabilities.
As far as trims are concerned, the first generation features LS, LT, and LTZ trims, while the second generation initially offered the LS, LT1, LT2, and LTZ. A late-generation refresh saw Chevy drop the LT1, LT2, and LTZ trims, which were replaced with the L, LS, LT, and Premier trims from 2016 onward. The third generation of the Chevy Equinox simplified things down to just four base trims: L, LS, LT, and Premier. However, those four base trims come in eight different configurations, depending on your preference for powertrains and packaging options.
First generation Equinox SUVs ran on a 3.4L V6 engine producing up to 185 hp, while the second generation Chevy Equinox ran on a 2.4L EcoTec V6 with 182 hp. Thankfully, optional upgrades for the LT, LTZ, andPremier trims to sport a 3.6L DOHC V6 with 301 hp. Third generation Equinox crossovers offer you the most options, with up to three engine choices, ranging from a 1.5L turbocharged four-cylinder that produces 170 hp, to a 1.6L diesel-powered four-cylinder at 137 hp, to a 2.0L turbocharged I4 at 252 hp.
While it might look like a downgrade in power compared to previous generations, the third-generation Equinox produces a lot more torque than the first two generations. Both the 1.6L turbo-diesel and 2.0L I4 engine options are only available on the third-generation LT and Premier trims. One of the more consistent features of the Equinox is the transmission, which has been standard at a 6-speed automatic since its inception. The third-generation, however, offers a 9-speed automatic transmission option for the LT and Premier trims. The Equinox also has a unique feature to enable manual shifting on the automatic transmissions.
LT and LS trims offer more infotainment options and packages, including up to four LCD monitors in the first and second rows and additional USB ports for plug-and-play devices. There are also interior weather protection packages and safety packages that include safety kits and first-aid kits. For those looking to improve Equinox's look, the Premier trim contains several upgrade options for the grille, wheels, and interior. Additionally, the Premier trim has fewer optional packages since many of the packages from the LT and LS are included as standard features for the Premier.
Chevy Traverse Trims and Features
The Chevy Traverse is also a relatively recent addition to Chevy's ever-expanding roster of SUVs. The full-size crossover is designed to seat up to eight people, so if you're looking for something bigger and heftier, the Traverse fits the bill. The full-sized crossover has even fewer generations than the Equinox, and thus it has fewer trims and configurations. The first generation rounded out with four trim variations, including the LS, LT1, LT2, and the LTZ, the last of which was later renamed to the Premier during a 2017 refresh. First generation iterations of the Traverse feature a 3.6L V6 with 288 hp and a 6-speed automatic transmission.
The second generation still runs on a 3.6L V6 but with a bump up in power to 310 hp. The second generation was also given an upgrade in the drivetrain, with a 9-speed automatic transmission instead of a 6-speed. The second-generation Chevy Traverse has five primary trims and a total of nine trim configurations. The five major trims include (from least to most expensive) the L, LS, LT, Premier, and High Country. The additional configurations include the LT Cloth, LT Leather, RS (based on the LT trim), and Redline Edition (based on the Premier trim).
Each trim is offered with front-wheel drive or all-wheel drive options, save for the L trim, which is only available as a front-wheel drive option. The High Country trim is bereft of a front-wheel drive option since it was explicitly designed with an all-wheel drive in mind. Much like the Equinox, the front-wheel options for new and used offerings are cheaper, while the all-wheel drive options are slightly more expensive.
The other trim variation, known as the RS, is based on the LT configuration with more glossy black exterior material for the window trims and roof rails. It also comes with a turbocharged four-cylinder instead of a 3.6L V6. The turbocharged four-cylinder was also later discontinued, making the RS somewhat of a rarity. The Redline Edition is an alternate version of the Premier, with an added Drive Confidence II Package and a few glossy black components such as the grille, fog lamp bezels, window trim, roof rails, and moldings.
Used Chevy Equinox vs Chevy Traverse Price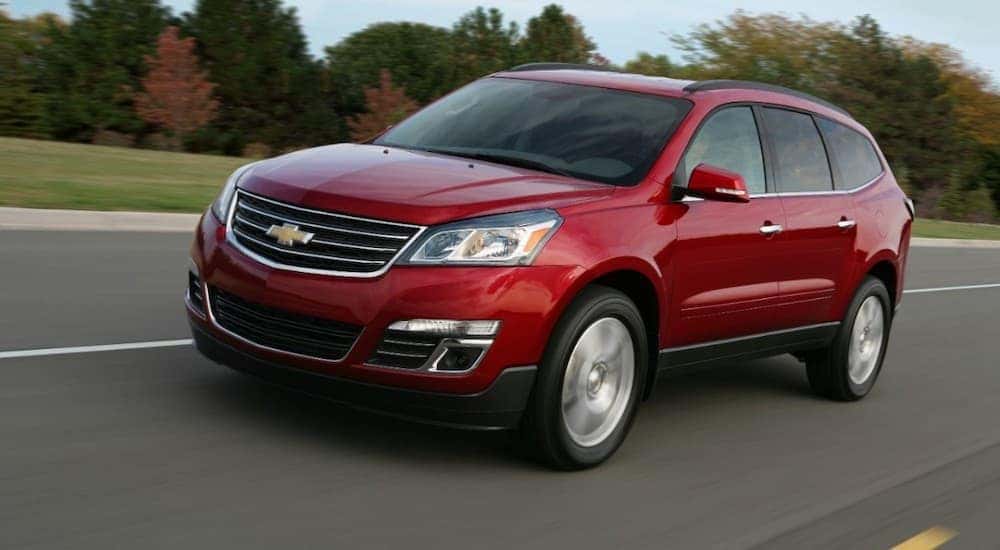 You already know what the starting MSRP is for both SUVs in 2020, but those prices change drastically when we're talking about used vehicles, especially for older models. On the one hand, you have access to a lot more safety features, quality of life features, and overall convenience updates for the newer generations and trims, so that's something to keep in mind even when you're buying used. However, the more miles a car has on it, the cheaper it will be.
A first generation used Chevy Equinox can be acquired for as little as $3,000. Typically you can find used LS and LT trims for under $5,000. Second generation used Chevy Equinox SUVs from 2010 onward typically start at around $6,000 for a vehicle with more than 100,000 miles on it. If you want a reduction on the mileage, you'll see a steady increase in the price, especially for second and third generation Equinox SUVs.
You can acquire a third generation used Chevy Equinox starting at $10,000 in the LS or LT configuration, but expect nothing less than 100,000 miles on it. If you were more interested in the luxury run of the Equinox, the third-generation Premier trim with less than 100,000 miles on it could be acquired for as little as $15,000, which is 36% less than the MSRP of a brand new 2020 Chevy Equinox L trim.
The Chevy Traverse is bigger than the Equinox, but not all used versions of the SUV are more expensive. For instance, a used first generation LS trim of the Traverse can be acquired for as low as $4,000. First generation LT trims are also relatively budget-friendly, being available for around the same amount. However, with prices that low, you're typically looking at mileage well over the 130,000 mark. If you cut the mileage in half, the price goes up significantly, and you're looking to pay around $18,000 for 50,000 miles on a first generation LS or LT trim. You can also find some LTZ trims for about $20,000 with under 100,000 miles on them.
For an extra $1,000, or so, you may as well scout for used second generation Chevy Traverse SUVs, since you get all of the accouterments and safety features from the newer models. Used second generation Chevy Traverse LS trims are available for as little as $18,000 with around 100,000 miles on them. For $1,000 more, you can upgrade from an LS to an LT trim. The LT Cloth and LT Leather trims will also cost you extra, typically by several thousand, with used LT Leather trims starting at around $24,000. That's approximately 38% cheaper than the Traverse LT Leather trim's starting MSRP. Second generation used Chevy Traverse Premier trims are typically available for under $30,000, which is 34% less than the starting MSRP of the 2020 Chevy Traverse Premier trim.
Used Cars Near Me
Ready to make a purchase? Want to talk to a dealer about specs and the finer details of finance and performance? You'll find everything you need at Dan Cummins of Georgetown. Dan Cummins offers both used and new vehicles around the Lexington area. You'll also find financing options available for when it's time to make a purchase, along with service and parts for vehicles in need of maintenance or repair. Be sure to call or chat with a local Dan Cummins of Georgetown representative to find out more, or feel free to visit the official website to browse through the vehicle listings.