Does Jeep Offer A Plug-In Hybrid?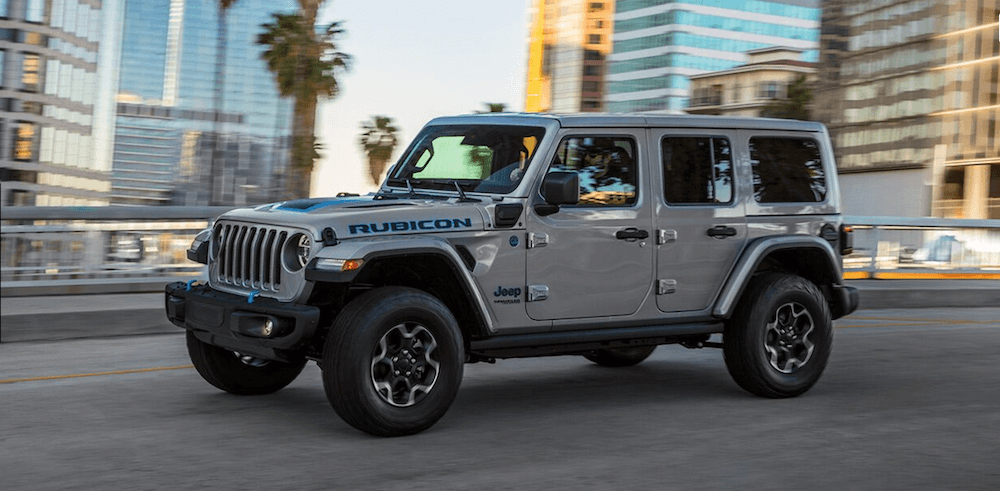 Updated December 2020
Jeep does in fact offer a plug-in hybrid vehicle, and Lexington, KY area drivers will have the opportunity to try it out as soon as December 2020. The 2021 Jeep Wrangler 4xe (pronounced "four-by-E") will join Dan Cummins of Georgetown's current lineup of brand-new Jeep Wranglers and beyond as the first-ever hybrid vehicle with four-wheel drive.
About the Jeep Wrangler Plug-In Hybrid
Experience the open-air freedom that the Jeep brand is widely known for, now with a plug-in electric boost. With 470 lb-ft of torque, the 4xe is a behemoth ready to power through the path, going from 0 to 60 mph in six seconds. The strength speaks for itself, as you can embrace the world around you even more with the 4xe's quiet electric motor.
The 4xe is estimated to offer up to 25 miles of all-electric driving range to go along with a manufacturer's estimated 50 MPGe rating. Additionally, the plug-in hybrid electric vehicle, or PHEV, has an estimated total driving range of 400 miles. Jeep has also partnered with Amazon to make in-home charging installation as easy as ever. Lexington and Louisville auto-owners can continue to hit the road as environmentally-friendly as ever without compromising the mighty force of the Jeep.
More Specs for the 2021 Jeep Wrangler 4xe
Here are a few more stats to look over as we prepare for the 4xe to drop later this year:
2.0L I4 DOHC direct-injection Turbo PHEV engine with 375 hp
16-kWh lithium-ion battery pack
Regenerative brake booster
Eight-speed automatic transmission
Estimated 5,000 lbs
When is the Jeep Wrangler Hybrid Release Date?
FCA announced that the 2021 Jeep Wrangler 4xe officially went into production in December 2020, with the first models headed to showrooms near you in early 2021.
We're sure you cannot wait to get your hands on the 2021 Jeep Wrangler 4xe, and our staff Dan Cummins of Georgetown feels the same way. In the meantime, browse our wide variety of vehicles from Chrysler, Dodge Jeep and Ram. For any questions, contact us at Dan Cummins of Georgetown.