Full Throttle Ahead: The Jeep Wrangler Rubicon 392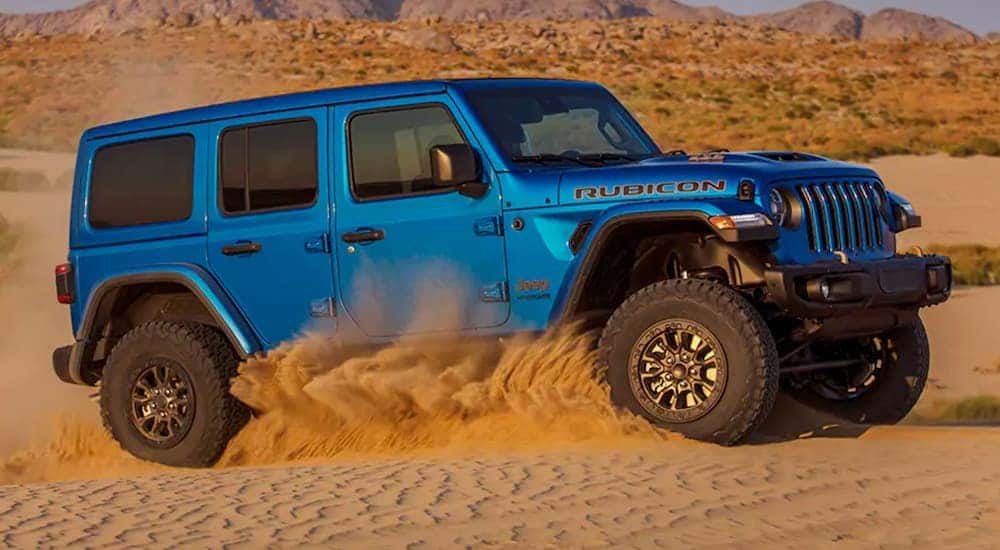 Are you ready to hear that Hemi roar? Jeep certainly hopes so with the debut of its all-new 2021 Wrangler Rubicon 392 that's outfitted with a 6.4-liter Hemi V8 engine. Talk about power! The new Rubicon 392 is designed to be the most powerful Wrangler yet and is set to attract off-road enthusiasts of every skill and interest level who are looking for more power, performance, capability. As your local Lexington Jeep Dealer, we can't wait to hear the roar of the Rubicon 392 as it rolls onto our sales lot. Get excited for Jeep's answer to the fans' call for more power with the legendary Jeep Wrangler Rubicon 392.
Jeep's V8 History: Full Throttle Performance
Ever since Jeep released the CJ in 1981 with its 5.0-liter V8 engine that delivered 125 horsepower and 220 lb-ft of torque, Jeep fans have begged for another V8 in the lineup. While it took over 30 years, Jeep finally answered the call with the 2021 Wrangler Rubicon 392 and its 6.4-liter V8 engine that delivers 450 horsepower and 450 lb-ft of torque. That's why Jeep has no qualms about promising that the Rubicon 392 is the quickest and most powerful Wrangler ever made. After all, it has a 4.5-second acceleration from 0 to 60 mph and a 13-second quarter-mile time on the track.
The Rubicon's V8 engine and 8-speed automatic transmission are heavier than their predecessors, which is why Jeep upgraded the Rubicon's frame and engine mounts to accommodate the beefier powertrain. With more power also comes the risk for a louder engine, uneven handling, excessive heat, and poor performance. How did Jeep respond to these potential hazards?
Jeep remedies these issues by adding several upgrades, including aluminum monotube Fox shocks as well as Dana 44 axles, Tru-Lock electric front and rear-axle locking differentials, and a Selec-Track full-time two-speed transfer case that improve handling. To reduce heat and enhance performance, Jeep added a Hydro-Guide Air Induction System to the hood that circulates the air and, in wet conditions, separates water from the intake. Jeep also included a dual-mode exhaust, which allows drivers to push a button to moderate the exhaust noise, whether idling or accelerating.
Off-Road Capability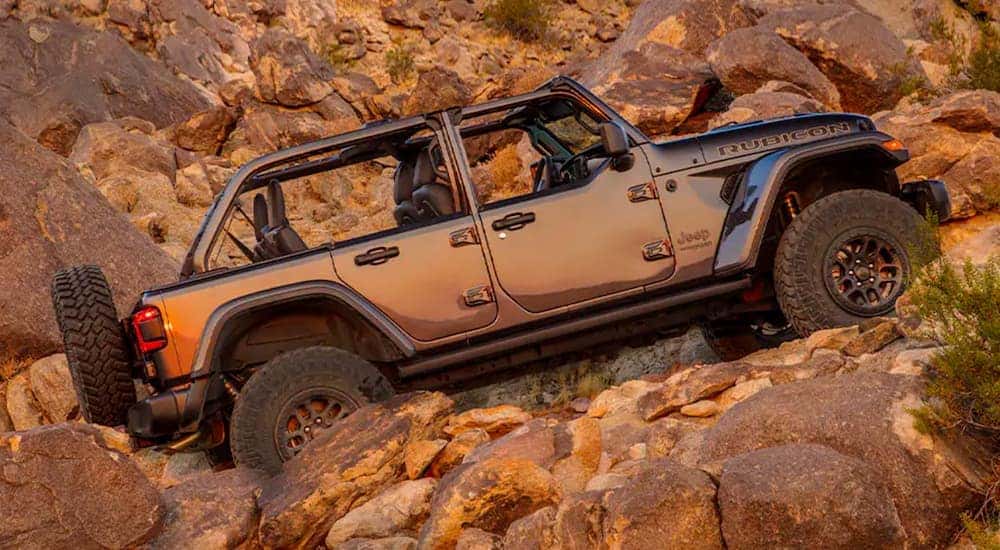 Jeep's attention to detail under the hood leads to exceptional performance and capability for drivers wanting to take the Rubicon 392 off the beaten path for an epic adventure. Like other Wranglers, the Rubicon 392 is Trail Rated and passed the five grueling tests in traction, maneuverability, water fording, ground clearance, and articulation. Its beadlock wheels and torque rating improved its traction while the 37-inch tires and the 2-inch lift kit enhanced articulation and the Rubicon's water fording capability of up to 34-inches. These factors also give the Rubicon 392 a 13.25-inch ground clearance that makes traversing obstacles easier than ever before.
Ruggedness and Comfort
Ruggedness and comfort aren't mutually exclusive on the Wrangler Rubicon 392. One feature that we're most excited about is the available half doors. A nod to early Wrangler models, the half doors give the Rubicon 392 a distinguished and rugged appearance while also putting drivers and passengers closer to nature. Of course, taking the top off will take this "walk" with nature one step further for a truly immersive driving experience.
When designing the Rubicon 392, Jeep kept in mind that many drivers will venture down dirt roads and harsh terrains to tackle a variety of obstacles and seek endless adventures. Because of this, Jeep pulled out all the stops to elevate the Rubicon's interior to ensure drivers could enjoy the Rubicon's exterior ruggedness from the comfort of a spacious and fully outfitted cabin. That comfort begins with premium, leather-trimmed seats with custom bronze stitching that make even the bumpiest of rides a comfortable experience.
Beyond the body-hugging seats, Jeep gives drivers even more control of the Rubicon by mounting the paddle shifters to the steering wheel, which is a first on the Wrangler. The 392 also features an 8.4-in touchscreen display that houses the Uconnect 4C NAV system as well as Apple CarPlay and Android Auto integration, giving drivers access to their apps, messages, music, and maps at the touch of a button. Speaking of music, drivers don't have to worry about the sound of the engine overpowering the radio, thanks to the Alpine Premium Audio System that delivers crisp sound.
Handling: How It Compares
So the question becomes, does the Rubicon 392 drive like the fastest and most powerful Wrangler that Jeep promised? Well, the enhanced performance output, nimble steering, adrenaline-pumping acceleration, and heavy-duty braking system all seem to say yes. With the V8 engine delivering 450 horsepower, the Rubicon 392 accelerates quickly and reaches 0 to 60 mph in just under 5 seconds, which is an impressive feat for a Wrangler. It seems that the Rubicon 392 may not be too good to be true.
The only downside, if you are not a fan of it, is the loud engine, but that is to be expected with a Hemi engine roaring under the hood. However, many fans agree that if you are going to put a lot of muscle under the hood, your car should sound like it. The dual-mode exhaust, a first for the Wrangler, will allow you to push a button and manually engage it to control the engine volume. Basically, you can make the engine quieter when you're stopped or let it roar.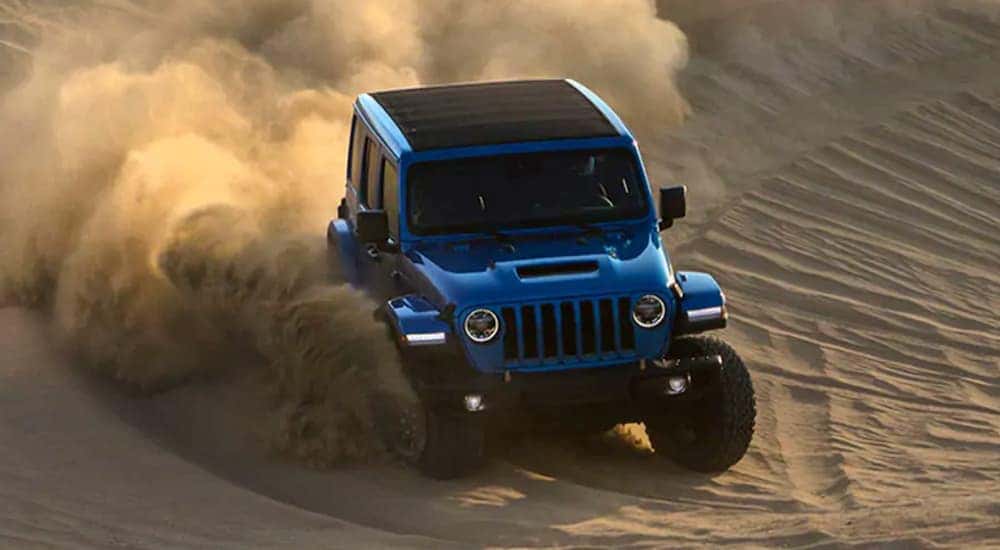 What Else is Jeep Working On?
While the amazing Jeep Wrangler Rubicon 392 is definitely an exciting addition to the Jeep lineup, it's not the only exciting thing that Jeep has coming in 2021. So, what else is Jeep working on? Well, the Wrangler is not only getting the heavy-duty 6.4L V8 Rubicon 392, but there is also going to be a hybrid option.
This new plug-in hybrid design gives new meaning to hybrid performance with an engine that produces 375 horsepower and 470 lb-ft of torque. If you want a Jeep that is good for the environment with an impressive driving range and rugged capability, the Wrangler 4xe is the SUV for you. Jeep estimates that this Jeep will be able to get up to 50 MPGe with a total driving range of 400-miles. That capability is hard to find in any all-gas alternative. Accelerating from 0 to 60 mph in just 6 seconds, the 4xe will get you anywhere you need to go with power and style. That certainly isn't bad for a hybrid!
Visit Us
Between the Wrangler Rubicon 392 and the Wrangler 4xe, there's a high level of excitement surrounding the 2021 Jeep lineup. As for us, we certainly can't wait to see the new Jeep models come racing onto our dealership lot in early 2021. If you are a Jeep fan, get ready for the most powerful Jeep Wrangler yet to come roaring onto the road in 2021. While we may not have the Rubicon 392 yet, there are still plenty of Jeeps for you to try out on our lot. Whether you want a classic Wrangler, a beloved Cherokee, or a rugged Gladiator, we've got you covered. Visit us today and see why so many people love Jeep and get excited about the roaring 2021 Jeep lineup.