Jeep's Next Step – The 2022 Wrangler Rubicon Xtreme Recon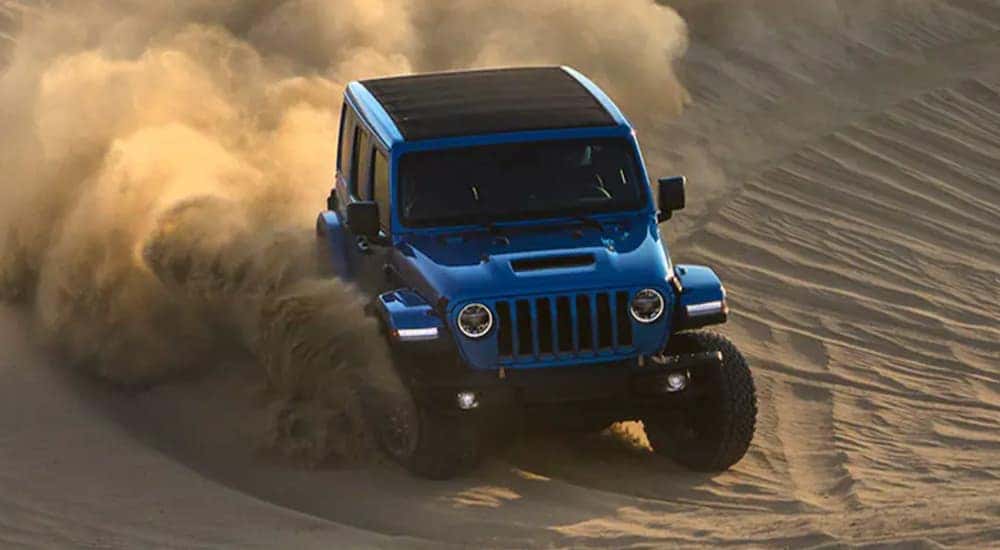 Finding the perfect Jeep Wrangler dealership is about more than just inventory – it's about the dealer's Wrangler knowledge. While most vehicles are used for hauling the family or daily commutes, the Jeep Wrangler is much more than that. It's an off-roading machine that's capable of tackling terrain that most vehicles wouldn't dare challenge. Even many trucks can't go where a Wrangler can. The Jeep Wrangler's low weight and all-terrain capability make it a mud crawling master.
But even though all Wranglers are off-road capable, some are more proficient than others. You need a dealership that knows this. When you're ready to purchase a true trail boss, find yourself a dealership like Dan Cummins that offers several Wrangler options, including the new Xtreme Recon package. If you thought the Rubicon performed stellar off the pavement, just wait until you hear the info we have about this new reveal.
The Wrangler Rubicon Story: From Aftermarket Mods To Stock Stats
Let's start off with some facts about the Rubicon's history. The Wrangler has a long history of being useful off-road, as it was originally designed to handle military duties. But while it's always been a great model for zipping around on dusty roads, it wasn't necessarily what we'd now consider an "off-roading beast." It wasn't until 1999 when a group of Chrysler engineers decided to use some aftermarket modifications to prove just how powerful that Wrangler could be in serious off-roading situations.
After years of sneaking on an occasional upgrade or two, these engineers were finally able to prove their point, which is that the Wrangler can be even better on the trails when modified appropriately. This is how the Wrangler Rubicon was born. Rather than presenting it as its own trim, the engineers pushed it in package form.
Once the Wrangler passed the tests and the company saw just how right that these engineers were, the Rubicon couldn't be stopped. In fact, in 2003, Jeep expected to sell at around 4,000 Rubicons in the first year of production yet ended up selling over 10,000 instead. The demand for a hardcore off-roader was finally heard, planned, and executed thanks to some clever and sneaky Jeep enthusiasts.
Much like how the Rubicon's birth made aftermarket Wrangler modifications into a real OEM package, the new Xtreme Recon package brings forth what customers have been doing to their Wrangler's behind the scenes for years. No more having to pay for aftermarket modifications and installations to get your Rubicon where you need it to be – the Xtreme Recon gives you everything straight from the dealership. Let's take a closer look at what exactly this new off-road package offers.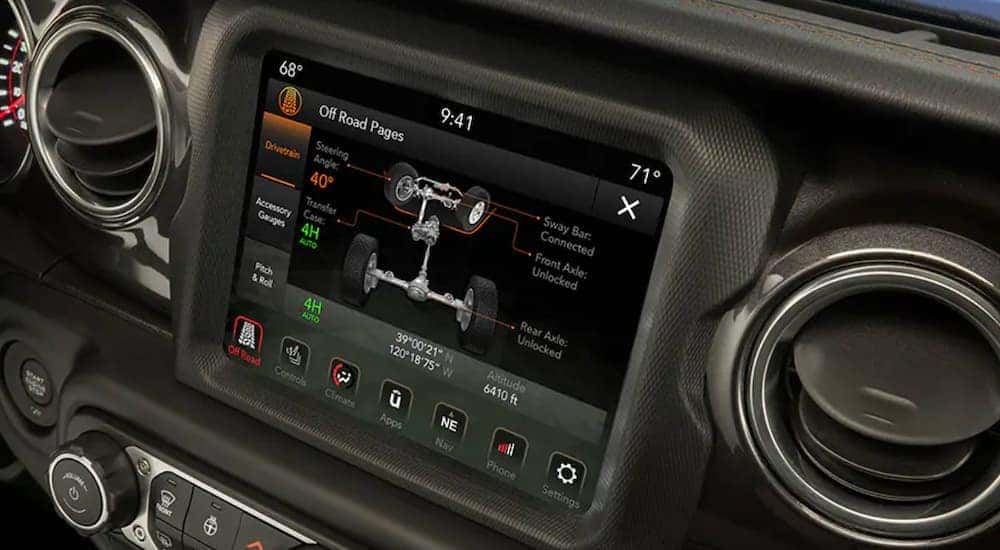 What Is the Xtreme Recon Package?
The Jeep Wrangler Xtreme Recon Package is a Rubicon-exclusive add-on coming to the 2022 Wrangler. This package is designed specifically for hardcore off-roading enthusiasts, and it is designed to compete with the new Ford Bronco's off-road Sasquatch Package.
The first main new spec that the Xtreme Recon Package offers is 35-inch wheels on 17-inch beadlock capable wheels (the same as the Sasquatch). In addition to this, the package adds on a 1.5-inch factory lift, bringing the Xtreme Recon's ground clearance to 12.9 inches compared to the classic Rubicon's 10.8 inches. This means that drivers gain over 2 inches of height when they add on this package.
The new Xtreme Recon Package also offers a 4.56:1 gear ratio, which is higher than even the standard Rubicon's 4.11:1 ratio. Your axle ratio is important for off-roading because the higher it is, the more power the model has for slow-paced situations such as trailing and rock climbing. When you choose a vehicle specifically for off-roading, your choice isn't about top speeds or fuel economy, it's about that crawling power, and this higher axle ratio helps drivers achieve just that.
How Does It Match Up Against The Bronco?
The key question to consider here is, how does the new Xtreme Recon Package match up against the new Bronco's stats? Well, first off, let's just say that sometimes starting out with the upper hand doesn't turn out so well in the long run. Because Jeep has seen what the Bronco is capable of, they've been able to go above and beyond to top it on the upcoming model year. Not only are they finally giving Wrangler drivers what they've been asking for, but they're also trying to outdo the competition, and they're succeeding.
Let's compare some stats.
The Jeep Wrangler Rubicon Xtreme Recon:
Approach Angle: 47.4 degrees
Breakover Angle: 26.7 degrees
Departure Angle: 40.7 degrees
Water Fording: 33.6 inches
The Ford Bronco Sasquatch:
Approach Angle: 43.2 degrees
Breakover Angle: 26.3 degrees
Departure Angle: 37.0 degrees
Water Fording: 33.5 inches
As you can see, the Rubicon Recon Package outdoes the Bronco by a landslide on many key aspects of off-road performance. But what exactly do each of these stats mean? We've got it broken down for you.
The approach angle is how steep an obstacle the vehicle can drive up without bottoming out or scraping the front bumper. Conversely, the departure angle determines how far a vehicle can descend without its rear area bottoming out. The breakover angle determines what a vehicle can drive over without scraping the underside or hitting the skid plate.
Your water fording capability rating determines how much water you can drive through without having any issues. Although the Recon Package and Bronco's water fording scores are similar, the Recon's otherwise higher stats give it a decided advantage. While both models are very capable of hitting the trails, Wrangler's new package option is better suited for hardcore off-roading enthusiasts than anything the Ford Bronco currently offers.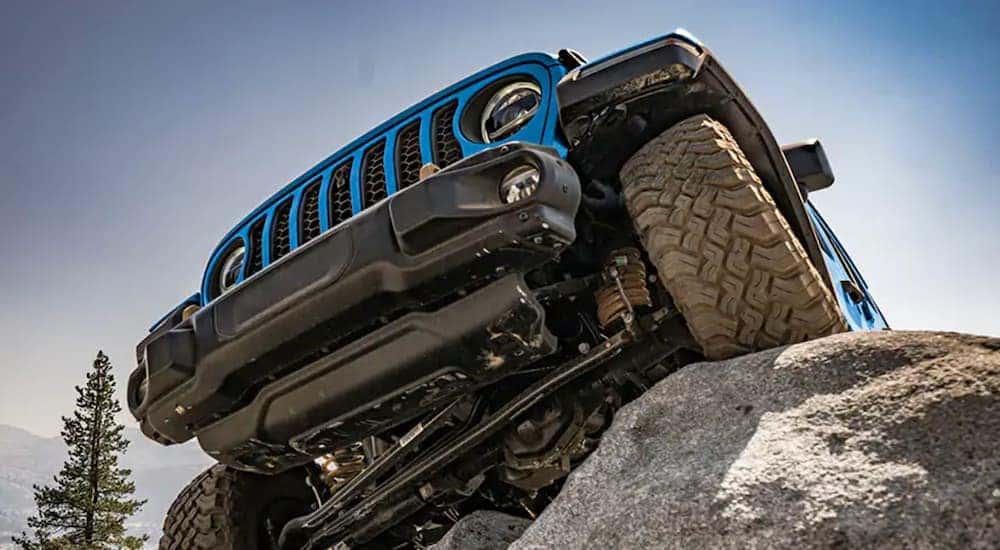 Additional Perks to Buying a New Jeep Wrangler
While these off-roading specs are impressive on their own, Jeep Wrangler ownership comes with far more perks than just capability. First off, you get to be part of the Jeep Wave Program. This means that no matter what your mileage is, you'll get your first three oil changes for free. You'll also get free, no-charge last-minute vehicle rentals and access to 24/7 roadside assistance. When you need an emergency tire change, you run out of gas, or you require a jumpstart, your complimentary Jeep Wave roadside assistance is here to help.
Another Wrangler ownership perk to keep in mind is that these models hold their value. This is because the Wrangler has a record of having a long lifespan. While most vehicles need to be traded in between 100,000 and 200,000 miles, Wranglers have a knack for lasting up to 400,000 miles and then some. Whether you want to keep your new Wrangler for years to come, or you plan on trading it in, these are important aspects to consider when buying a new model.
If you're torn between choosing the Bronco and the Wrangler, this is an important factor to consider. While the Bronco name is old, it hasn't been in production for decades, and we don't know how well these new models will hold up long-term. The Wrangler, on the other hand, offers a long track record of continuous reliability.
If you are as excited as we are to see the new Xtreme Recon Package in action, sign up for info on the 2022 Jeep Wrangler Rubicon and Rubicon 392 to learn more about this exciting new off-roading package and reserve yours today.