Model Showcase: Our Top Picks from Ram, Dodge, Chrysler, Jeep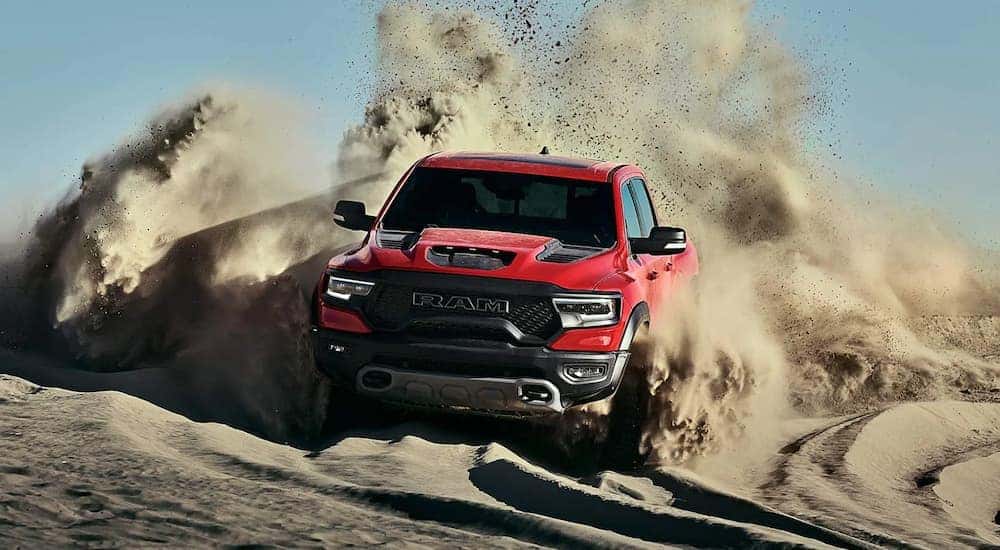 As one of the premier car dealerships in Georgetown, KY, we are extremely proud of the brands we carry here at Dan Cummins Chrysler Dodge Jeep Ram. This pride stems from the stellar reputation of each automaker and their commitment to delivering innovation, reliability, and premium quality in every vehicle that rolls off the assembly line and onto the lot. Once the vehicles reach us, our customers reap the benefits of everything these brands have to offer, whether they're shopping for a Chrysler 300, a Jeep Wrangler Rubicon, a Ram 1500 TRX, or a Dodge Charger SRT Hellcat. Our lineup has it all!
2021 Ram 1500 TRX
Designed to deliver thrilling adventures and heart-racing speed, the all-new 2021 Ram 1500 TRX seems like a fitting start to our top models here at Dan Cummins. The TRX, which was named the 2021 MotorTrend Truck of the Year, is equipped with a supercharged 6.2-liter HEMI V8 that makes it the most powerful production half-ton truck ever built. But just how fast is it? Capable of launching from 0 to 60 mph in 4.5 seconds, the supercharged HEMI delivers best-in-class 702 horsepower and best-in-class 650 lb-ft of torque. Add in components like the exclusive Bilstein Black Hawk e2 shocks and tools like Launch Control, dashboard diagnostics, an integrated dyno plot, and customizable vehicle dynamics, and there's no question that you'll have everything you need at your fingertips as you chase your need for speed.
Along with speeding down the track, you can also confidently venture off the pavement and down the trail. The TRX offers 11.8 inches of ground clearance, 13 inches of travel in the front suspension, and 14 inches of travel in the rear. You can customize how the truck performs using one of the eight drive modes that finetune the suspension, steering, and torque split to give you more power and control whether you're cruising in Sport Mode, navigating wintry weather in Snow Mode, driving in deep mud in Mud/Sand Mode, or crawling over boulders in Rock Mode. The TRX can handle whatever the road puts in its path and, even then, it's only just getting started!
2021 Dodge Charger SRT Hellcat
The Dodge Charger SRT Hellcat is the fastest and most powerful production sedan on the market. Super fast, supercharged, and ready for the racetrack, the Hellcat is equipped with a 6.2-liter HEMI V8 engine to deliver 717 horsepower and 656 lb-ft of torque. But just when you thought this power was impressive, Dodge ups the ante with the all-new Charger SRT Hellcat Redeye that delivers jaw-dropping power and a top speed of 203 mph.
The Hellcat Redeye adds more torque and power to the sedan to deliver 797 horsepower and 707 lb-ft of torque. This increase comes from a few improvements made to the sedan, starting with its aerodynamics and the addition of a dual-stage fuel pump that accommodates the Redeye's greater demand for fuel. With the sedan also boasting a widebody design that increases its stability and gives you better control from behind the wheel, it's easy to see why the Charger SRT Hellcat and the Hellcat Redeye are two of the best muscle cars on the road today.
2021 Chrysler 300
Combining luxury and sophistication with performance, the 2021 Chrysler 300 is the complete package. The luxury sedan is also more than meets the eye, and that's courtesy of its 5.7-liter HEMI V8 engine under the hood. Reaching 60 mph in just under 6 seconds, the HEMI engine delivers best-in-class 363 horsepower and best-in-class 394 lb-ft of torque that makes the Chrysler 300 one of the most capable luxury sedans you'll ever drive.
You can push the sedan's limits with confidence thanks to Chrysler's exclusive all-wheel-drive with a front-axle disconnect system that helps you maintain control even when you lose traction by engaging at any speed and in any condition. Of course, pushing the Chrysler 300 to its limits is even more fun when you're using Sport Mode, which finetunes the transmission's shift points, steering, and the response of the accelerator pedal to give you the best performance possible.
2021 Jeep Wrangler Rubicon
There's no question that the Wrangler is one of our top models, and that's because of its rich history and Jeep's reputation for building reliable, rugged, and adventure-ready vehicles. The Wrangler Rubicon offers the ultimate in ruggedness and proves as much with a Trail Rated badge that reflects its exceptional maneuverability, traction, water fording, articulation, and ground clearance. The Rubicon is also equipped with Jeep's legendary four-wheel-drive technology known as the Rock-Trac 4×4 System. With the Rubicon outfitted with electronic locking front and rear differentials as well as an electronic front sway bar disconnect, the Rubicon's capability on the trail is phenomenal.
The Rubicon is designed to get a little mud on the tires, and that's why Jeep outfits the rig with everything you'll need on the trail. This includes Selec-Speed Control that manages your speed in 4LO so that you can focus on climbing over obstacles and up or down steep grades. The Selectable Tire Fill Control takes the guesswork out of inflating and airing down the tires by alerting you at the recommended tire pressure. You'll also find steel skid plates to protect the undercarriage from damage, as well as an Off Road+ button that optimizes traction and the performance of the throttle and transmission to deliver an ultimate off-road adventure.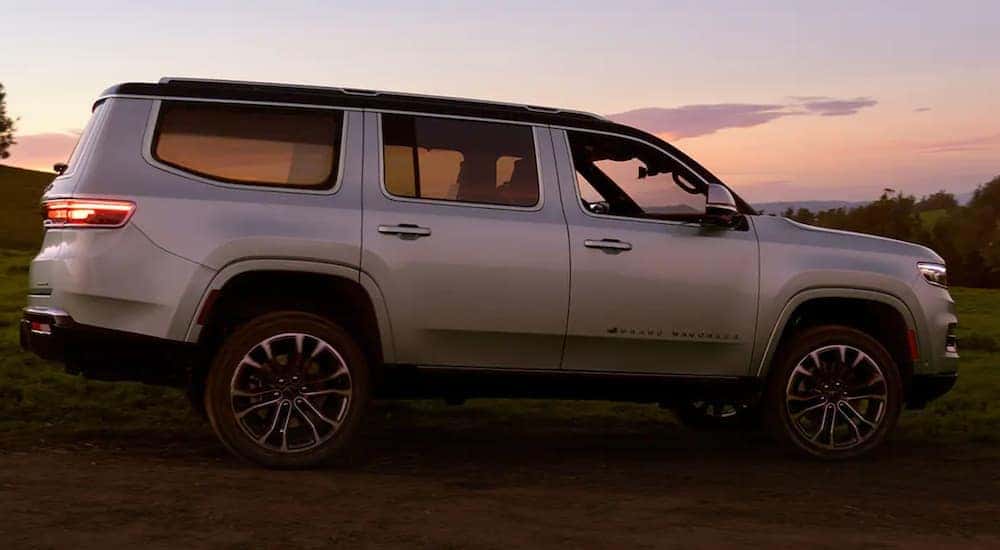 2022 Wagoneer and Grand Wagoneer
After Jeep turned heads with the debut of its Wagoneer sub-brand, we'd be remiss if we didn't include the Wagoneer and the Grand Wagoneer on our list. The Wagoneer brand will offer a new level of premium American luxury while honoring the legacy of Jeep's original Wagoneer and Grand Wagoneer models. This luxury begins with the 2022 Wagoneer. The model embodies opulence from the inside out with its 22-inch polished wheels with black noise pockets and the available power side steps that automatically deploy to make entering and exiting the SUV easier. The SUV is also equipped with the industry's first-ever McIntosh 19-speaker entertainment system and offers other innovative tools like a Heads-Up Display and a Quadra-Lift Air Suspension System that improves handling and ride quality.
If you're looking for even more luxury, then look no further than the 2022 Grand Wagoneer. Sitting on 22-inch polished wheels with lights out pockets, the Grand Wagoneer is truly breathtaking with its Palermo leather-trimmed seats with an in-seat massage that makes your time in the driver's seat even more enjoyable. The SUV features a 23-speaker McIntosh entertainment system and a class-exclusive 10.25-inch front passenger interactive display that keeps your passenger connected and allows them to help with navigation and entertainment. You'll also find a front console cooler as well as advanced safety and driver-assist tools like Active Driving Assist and Night Vision with Pedestrian and Animal Detection.
Plenty of Options
What automaker is your favorite – Chrysler, Dodge, Jeep, or Ram? We get it; it's hard to choose just one, especially when you look at everything the automakers have to offer. From the powerful Charger SRT Hellcat and the opulent Grand Wagoneer to the adventure-ready Ram 1500 TRX and the rugged Wrangler Rubicon, there is truly something for everyone. Whether you have a need for speed or adventure, one thing is certain – you'll find all that and more when you shop for a Chrysler, Dodge, Jeep, or Ram.