Mopar-Powered Ram 1500 Pickups Deliver Great Value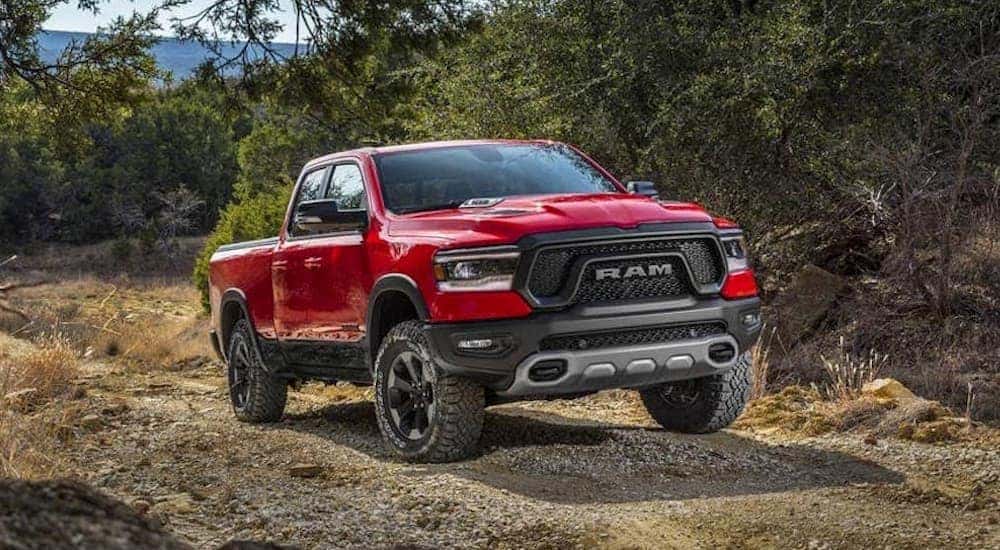 Ram trucks come equipped with genuine Mopar power under the hood and enjoy a reputation for long service life. The Ram 1500 is one of the most popular light-duty pickups built in the United States and annually sells very well. Ram trucks, in general, sold 633,694 units in 2019 with the Ram 1500 anchoring the lineup. The numbers sold are second only to the Ford F-Series and affirms the pickup's popularity. That means lots of good used Ram 1500 models likely were accepted as trade-ins and available at great prices.
The Ram 1500 underwent a design change that resulted in an award-winning model for 2019. Significant improvements to the interior, including more wood and better quality leather, made the cabin more luxurious. Like most pickups, you can get a regular, extended, or crew cabin with the Ram 1500. All of this means that you will likely run into a few Ram 1500 truck options on the lot.
Mopar Motors Make all the Difference
The Ram 1500 is very popular for a good reason – its array of engines are among the best anywhere. Gasoline V6 and V8 engines offer plenty of workability and support weekend romps. Diesel engines give even more punch and cruising range while maximizing hauling capacity. Depending on what your intentions are for the truck, the following Ram 1500 engine guide will help to narrow choices for final purchase with engines available from over the past decade.
3.6-Liter V6
The base engine among current-model Ram 1500 trucks, the 3.6-liter V6 produces 305 hp and 269 lb-ft of torque that powers either a pair of rear drive wheels or all four in 4×4 mode. It has 24 valves and variable valve timing to generate a good fuel economy. The V6 gets up to 26 MPG on the highway and 20 MPG when running errands in town.
A mild-hybrid 48-volt eTorque system boosts torque by 90 lb-ft for additional towing capacity. That gives the base Ram 1500 a maximum towing capacity of 7,730 lbs. It also carries a little over 1,200 lbs in the bed, which is more in the range of a classic half-ton pickup.
3.7-Liter V6
Offered on older used Ram 1500 models, the 3.7-liter V6 is the precursor to the current edition. On the 2010 Ram 1500, the motor has 12 valves, a single overhead cam, and a 9.7:1 compression ratio. The cast-iron engine block is topped with aluminum heads and has a balanced shaft. The 3.7-liter V6 is good for up to 215 hp at 5,200 rpm and 235 lb-ft of torque at 4,000 rpm. Either a four- or a five-speed automatic transmission sends the power to the drive wheels. Towing capacity is on the lower end among Ram 1500 pickups at about 6,100 lbs.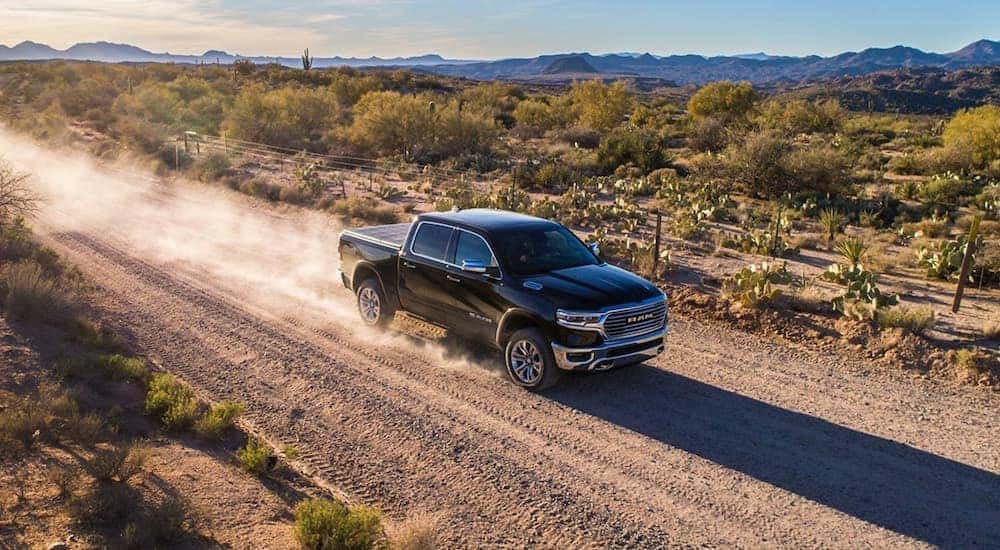 4.7-Liter V8
Also offered on the 2010 Ram 1500 and some more recent model years is the 4.7-liter V8 with a single overhead cam and two valves per cylinder. A cast-iron block and aluminum alloy heads are nearly bulletproof while a 9.8:1 compression ratio helps to generate up to 310 hp at 5,600 rpm and 330 lb-ft of torque at 3,950 rpm. A five-speed automatic transfers power to either a pair of rear drive wheels or all four wheels via a 4×4 drivetrain. The 4.7-liter V8 increases the towing capacity to more than 11,000 lbs when paired with a 3.21 axle and 17-inch wheels.
5.7 Liter HEMI V8
You really get into classic Mopar power with the 5.7-liter HEMI V8. The HEMI is not the same as the original muscle-car powerplant that became a legend during the muscle car era, but it carries the badge well with 395 hp and up to 410 lb-ft of torque available to spin the wheels or haul big loads wherever you need to go.
Fuel economy is low at 15 MPG in the city and 22 MPG on the highway, but the 5.7-liter HEMI V8 is more about power and fun. It also boosts towing capacity to 11,610 lbs. You can get better fuel economy and even more towing power from the same engine with the optional eTorque mild-hybrid system that enhances fuel economy and boosts towing capacity to 12,750 lbs.
3.0-Liter Turbo-Diesel
When you really want to go far and haul a lot with you, the 3.0-liter turbo diesel V6 is the powerplant that you need. The Ram EcoDiesel motor delivers more than 1,000 miles of driving range when paired with an optional 33-gallon fuel tank. It gets up to 32 MPG on the highway and 22 MPG in the city in rear-wheel drive and is almost as good in 4×4. The EcoDiesel V6 churns out a modest 260 hp and a massive 480 lb-ft of torque to enable all of that hauling power. Towing capacity tops out at 12,560 lbs with the EcoDiesel V6. Another 1,500 lbs will ride in the bed for good hauling capability.
How to Choose the Right Motor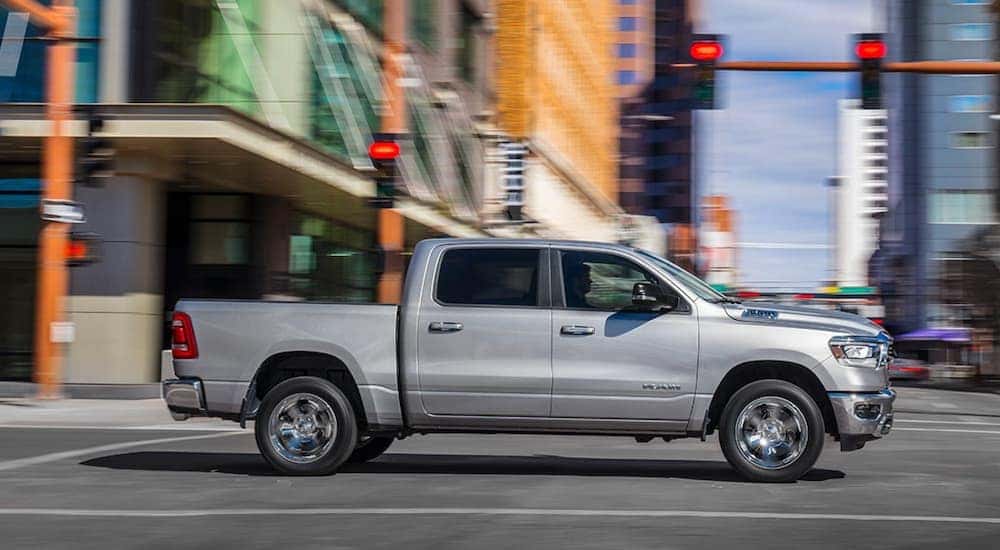 A classic American half-ton pickup like the Ram 1500 can fulfill many transportation duties. If you just need a daily driver that can haul furniture and pull a boat or camper on weekends, a base model Ram 1500 with a V6 will suit your needs just fine. If you need a work truck that will get you to just about any worksite location, a V8 will handle the task. And if you have a fifth-wheel camper or large hauling needs, the EcoDiesel is the optimal choice.
The Ram 1500 engine guide provides a good reference point for the power, towing capacities, and fuel economy of one of the best-built and best-selling pickups on the planet. When you have a full understanding of your trucking needs, a used Ram 1500 with the ideal engine configuration will prove to be a finely suited solution to your transportation problems. A roomy cabin with comfortable seating and premium audio help add to the fun of getting there on long trips.
Get Great Value from a Used Ram 1500
A new Ram 1500 always is a well-built and reliable pickup for doing just about anything. About the only way to improve on a new model is to save thousands on a good used Ram 1500 with lots of life left in it. A new pickup can lose about a fourth of its value during the first year, and half the value of its purchase price after three or four years.
A good used pickup that is properly maintained and in like-new shape can deliver many years of excellent service for much less than a comparably equipped new pickup. Many still enjoy factory warranty protection and can benefit from optional service contracts. A service contract ensures your pickup gets timely maintenance and stays in top running condition with experienced and certified technicians doing the work for you.
Recent Ram 1500 models will include a lot of the safety features included on new trucks. That includes blind spot monitoring, rear cross-path detection, lane-departure warnings, and adaptive cruise control. Advanced airbag technology strategically places six airbags within the cabin to give drivers and passengers the best chance of walking away from an accident. You just need to choose the engine you want and go find a great deal on a used Ram 1500 pickup.
Are you looking for a used Ram 1500 in the Lexington, Kentucky area? We here at Dan Cummins of Georgetown will be happy to help you find the best used Ram 1500 for you. Our sales department is ready to answer any questions you might have about the trucks available on our lot, so come visit us at 1470 Cherry Blossom Way in Georgetown, KY!