Most Epic Features of the Jeep Gladiator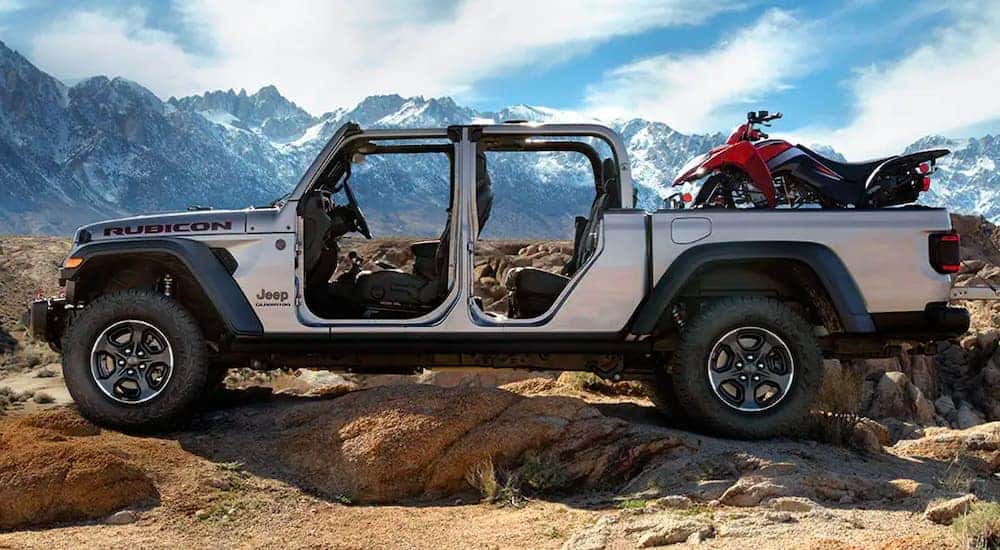 Most drivers believe that you can either have an off-road warrior, capable of the unimaginable, or a tough truck, able to provide max power and strength in any situation. However, the Jeep Gladiator has proven that you can indeed have both, and when you want to harness all of that power for a more affordable price, you may be leaning toward buying used. If you're looking for a used Jeep Gladiator, let the team at Dan Cummins of Georgetown help you in your search, and if you're wondering about all of the unique features found in the Gladiator, we've compiled a list of a few of our favorites. From how to take the doors off the Gladiator to how to enjoy the best of both worlds in this legendary off-roader and powerful pickup, tune in for a closer look at this uncanny machine.
Open Air Wonder
Imagine being able to revel in the sense of open air freedom like never before. In the Gladiator, that's exactly what you can expect with its removable doors and fold-down windshield, as well as its removable roof, which makes it one of the only pickup trucks in the industry to offer this feature. Become one with the nature that surrounds you by opting to remove these elements to create the ultimate iconic adventure mate, and if you thought it might be difficult to do this, think again.
Follow the steps below in order to take the doors off the Gladiator:
Locate the Jeep-issued toolkit that can be found in the center storage bin of your Gladiator.
Open the doors and roll your windows down to begin.
Utilizing the Jeep-issued short T-50 bit and ratchet, remove the Gladiator's locknuts under each door hinge. Store in the convenient holder, located behind the driver's seat under the rear passenger seat.
Locate the black strap on each open door, which conceals electrical wiring. Unlock the wiring by pushing the red tab up, then press and lift up on the white lever to release the wiring.
Utilizing the long T-40 bit, locate the retaining rod, which resides above the lower door hinge, remove the bolt, then swing the door open. Replace the bolt once the door is out of the way.
Lift up on the door. You'll feel a pop, and the door will be removed from the vehicle.
Repeat with the other door(s).
You're in for a wild ride with the wind whipping through your hair and the feeling of adrenaline coursing through your veins. Few pickups can offer this type of excitement during your travels. When you want to remove the barriers between you and the open feel of nature, the Gladiator showcases this feeling seamlessly. What's even better is that you're able to customize your experience by opting to remove all of these elements or just one to heighten any type of ride. Store your roof panels in Jeep-issued storage bags, and your door panels fit perfectly in the bed. Jeep thought of everything when designing this thrilling ride, and if exploration is in your future, nothing can amplify this quite like the Gladiator.
Off-Road Legend
A lot of off-roaders swear by the Wrangler, especially when it comes to blasting over obstacles and navigating uneven terrain, but when you want more, the Gladiator steps up to the challenge. Part pickup, part off-road warrior, the Gladiator takes adventure to a whole new level with its Rubicon model, armed with enhanced shocks, an updated suspension system, locking front and rear differentials, all-terrain tires, and more to provide ample control and precision on the trails. Desert-ready, trail-ready, rock climbing-ready, the Gladiator can take it all on with an agility and prowess like no other off-roader or pickup truck ever seen before.
You'll find its aggressive stance is just waiting for a challenge with bold fender flares, rock rails, and high ground clearance, able to ford up to 30 inches of water. Plus, with loads of tech built in to enhance its performance on any terrain, you'll be the talk of the trails when you pull up in this beast. There's no doubt about it; the Gladiator is the truck to have when you're looking to get a bit muddy or when you're seeking out adventure in an unknown destination. With its superior maneuverability, unparalleled capabilities, and powerful expression, there's no competing against this mean machine.
Pickup Truck Personality
You'll notice that the Gladiator exhibits many best-in-class features, like a top towing capacity of 7,650 lbs and a best-in-class payload capacity of 1,700 lbs. The ideal pickup for any task at hand, the Gladiator shows that it's ready to work and play, sometimes even simultaneously. Able to tackle tough loads with ways to customize it to maximize your haul, the Gladiator is a trusted companion for many looking for a top work truck. With a diesel option available in the latest Gladiator model, you can expect undeniable power and efficiency from this strong and durable Jeep model.
Add value to your day with the Gladiator's exceptional features, destined to make your experience behind the wheel outstanding. State-of-the-art trailering tech allows you to have increased control over your haul, able to brake safely and hitch it up with ease, which makes the Gladiator extremely convenient for tasks at work or when you're loading up the camper on your next adventure. Its spray-in bedliner provides you with a rugged bed space to haul any materials without causing damage to your Gladiator. With so many added extras, like an adjustable tie-down system, cargo options, and more, no task is too tough for this durable truck.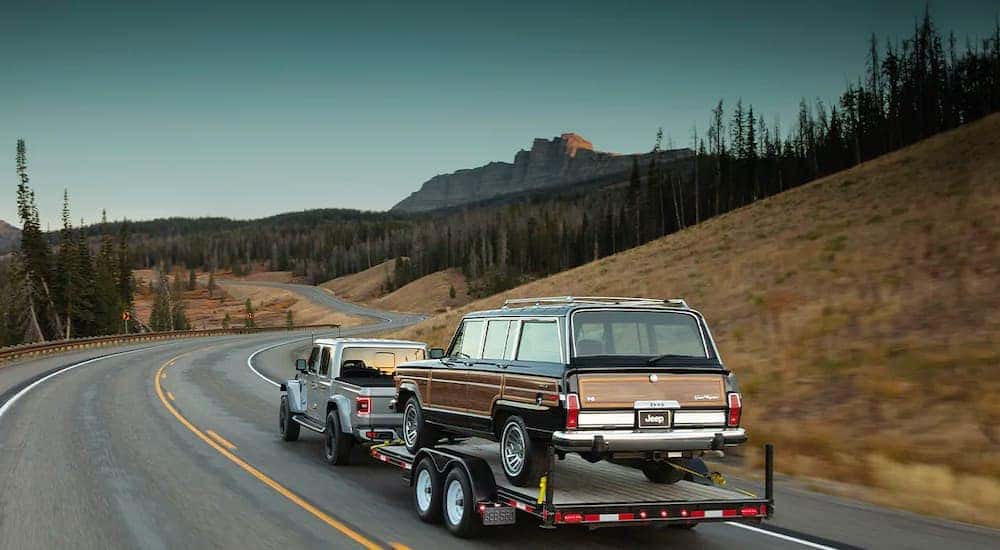 Cool Tech
No vehicle is complete without some of the most innovative tech on the market, which is exactly what you'll find in the Jeep Gladiator. The great thing about the Gladiator is that it isn't very old, allowing you to buy used, yet still take advantage of ingenious technology for a much better price. The Gladiator takes tech to a new level with its seamless infotainment system, presented to you through a standard 7-inch or available 8-inch touchscreen, plus multiple charging ports, crystal clear audio system, and more fun add-ons throughout. You'll also find a removable wireless speaker, so you can take the fun with you when you arrive at your destination.
Jeep's Uconnect system makes it simple to stay updated and connected to your day, which is helpful whether you're on the job site for work or out on your next expedition on the trails. It just proves that no matter where you travel to, your Gladiator is ready to take your experience to another level of awe-inspiring excellence with some of the most revolutionary features you've ever seen in a pickup.
The Gladiator Does It All
From off-roading to hauling, sailing down the open road to working hard on the job site, there's nothing the Gladiator can't do, which makes it a top truck in the industry. Dubbed "A Truck to Do It All," the Gladiator showcases an expert skill set, ranging from all-wheel drive capabilities to serious performance, making it a top pick for various types of drivers everywhere. Few trucks can do what the Gladiator does with the confidence and strength that emanates around it, making it one of the most versatile options out there for those looking for more in their pickup. Whether you're cruising with the top and doors off or venturing out on the trails to feel that sense of euphoria, the Gladiator will be there next to you to deliver an action-packed ride like no other.
If a Gladiator is on your mind and you want to experience the excitement for yourself, Dan Cummins of Georgetown has a selection that will amaze you. Test drive one of our used Gladiators and see why more drivers are inspired by this legendary Jeep model. You won't find a better truck to deliver all the power, capabilities, and design elements to elevate your adventures, making them even more epic than you could have ever imagined. That's why when you're in the mood to heighten the excitement of your ride, the Gladiator will do all that and more to ensure you're left with a feeling of wonder and amazement. Stop by our lot and experience this sense of exhilaration for yourself, and raise your standards when it comes to your next vehicle.