New or Used, Nothing Beats a Ram 1500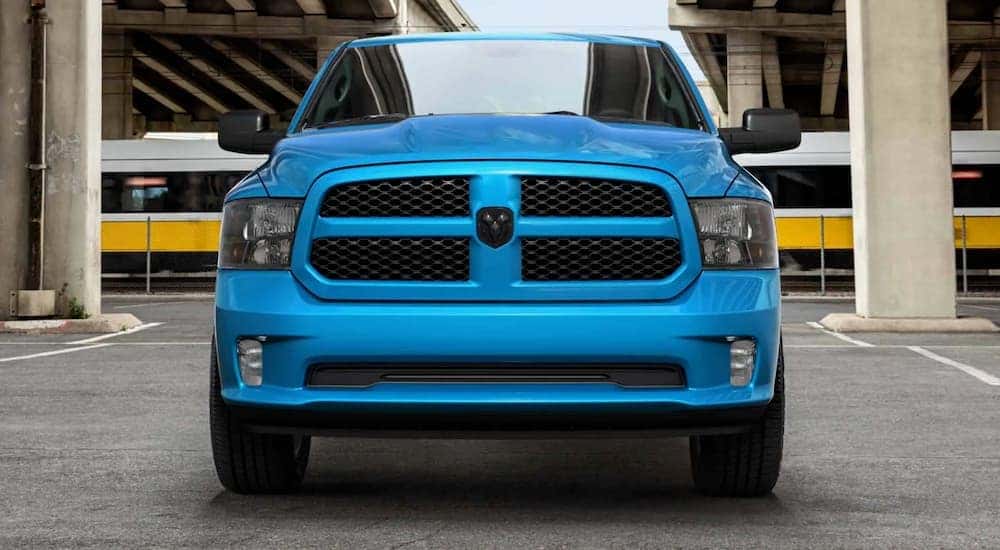 Buying your next truck is never an easy thing to do. With so many makes, models, engines, and options out there, the automakers don't make this a very easy decision. However, one thing you should keep in mind is that no other truck on the market is quite like a Ram 1500. This truck has been at the front of the pack since Dodge first introduced it in time for the 1981 model year. Those original Dodge Ram trucks are pretty much museum pieces now, but that shouldn't stop you from shopping for new or used Ram trucks in Lexington. The only question is, should you buy a new or used Ram 1500? The answer really comes down to your personal budget.
If you can afford to buy new, there is nothing like breaking in a new pickup truck yourself, with all the latest conveniences. However, if you are on a budget and want to get a great deal, a used Ram 1500 will give you so much truck for your buck. That is because trucks, like other vehicles, will lose up to half of their value to depreciation during the first three years of ownership. As a result, you can buy a used Ram 1500 for considerably less than a comparable new model. If you are looking for used Ram trucks in Lexington, then stop by Dan Cummins of Georgetown. We offer the full lineup of Chrysler, Dodge, Jeep, and Ram cars, trucks, vans, and SUVs. We offer exceptional deals on both new and used Ram trucks. Come in today and let us get you behind the wheel of your next truck.
Confusion in the Marketplace
If you are looking for a used Ram 1500, then you need to keep in mind that until 2010, Ram trucks were known as Dodge Rams. With the new decade, the folks at Fiat Chrysler Automobiles decided to make Ram its own division, focusing solely on building the greatest trucks on the road today, including the Ram 1500, Ram 2500, and Ram 3500.
The Dodge Ram 1500 first hit the road in time for the 1981 model year. It has since gone through five generations, with the current version introduced for the 2019 model year. However, Ram also continues to produce the fourth-generation model under the Ram Classic nameplate. So, if you see a 2019 or later Ram 1500 tagged as Classic, then you know that it will have the same specifications as the fourth-generation model.
Cab Configurations Over the Years
The current 2021 Ram 1500 offers you a choice of a Crew Cab or Quad Cab. The Crew Cab has four full-size doors and two full rows of seats. The Quad Cab has a slightly shorter length than the Crew Cab, so its rear row of seats has a little less legroom. It also has two half-size doors in the back. The tradeoff is that the Quad Cab will generally cost less than the Crew Cab for the same trim level and engine option. It also reduces the vehicle's curb weight, boosting the towing capacity for your truck.
Some folks don't need all that extra space in their truck's cab. They also might want to maximize the towing and payload capability of their truck. If you are one of these people, then a used Ram 1500 or a Ram Classic with a Regular Cab may be the ideal choice of truck for you. However, you might also want to consider upgrading to a more capable Ram 2500 or even Ram 3500.
Choices of Powertrains
One thing that folks have always loved about the Ram 1500 is that it has always given you a number of engine choices when building your truck. The fact is that some of us need more towing power, so an engine with an emphasis on torque is just what we are looking for. Others are concerned about speed, especially if we are going to use our truck for off-roading. This is where a boost in horsepower can really help. Finally, some of us want a truck that's not going to spend as much time at the gas pump as on the road. This is where a more fuel-efficient V-6 gas engine or a diesel comes into play. We may be sacrificing a little bit of performance, but we are still getting a great Ram 1500 truck with extra money in our wallets from savings on gasoline or diesel oil.
The current 2021 Ram 1500 gives you a choice of five great engines, each of which is paired with an 8-speed automatic transmission. The base model is a 3.6-liter Pentastar V-6 gas engine with eTorque. This one produces 305 hp and 269 lb-ft of torque, allowing you to tow up to 7,730 lbs while getting an exceptional fuel economy of 20 MPG in the city and 25 MPG on the highway. The next engine up is a 5.7-liter HEMI V-8 that produces 395 hp and 410 lb-ft of torque, making the Ram 1500 capable of towing up to 11,610 lbs. This engine is also available with the eTorque system, which boosts the maximum towing capability to 12,750 lbs and improves overall fuel economy.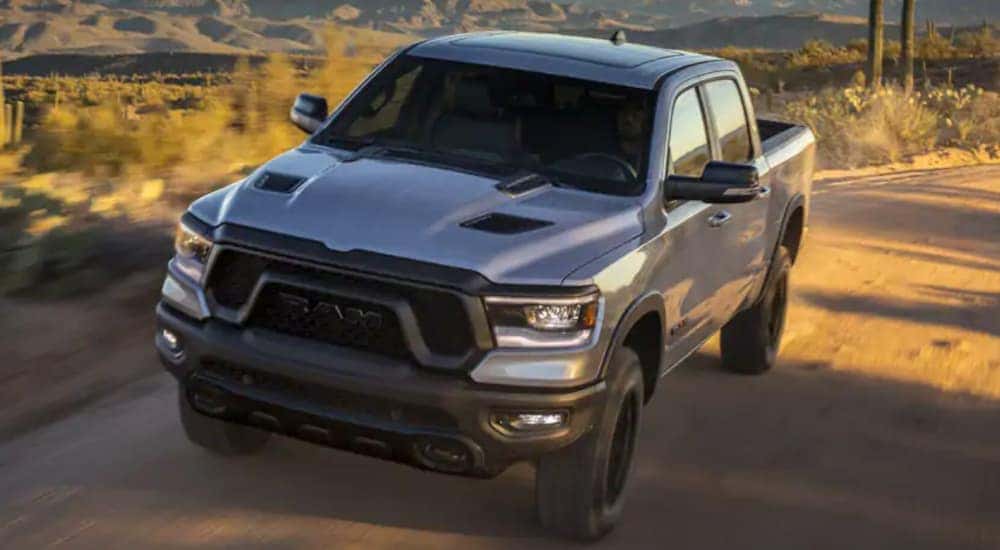 The most powerful engine on the 2021 Ram 1500 is a 6.2-liter Supercharged HEMI V-8 that provides 702 hp and 650 lb-ft of torque. This is the engine to choose if you are looking for great acceleration, although it is only available in the TRX off-road variant. The final engine option is a 3.0-liter Ecodiesel V-6 that gets great gas mileage while providing you with the ability to tow up to 12,560 lbs. The engine produces 260 hp and 480 lb-ft of torque.
The engines of the current generation of Ram 1500 build on the expertise first seen in the earlier models of the truck. For example, the fourth-generation Ram 1500 gives drivers the choice of three great engines. The standard engine from 2013 on is a 3.6-liter Pentastar V-6 that produces 305 hp and 269 lb-ft of torque. This is the same base model engine featured on the current Ram 1500. The top engine on the fourth-generation Ram 1500 is a 5.7-liter Hemi V-8 that produces between 390 and 395 hp and 407 to 410 lb-ft of torque, depending on the model year.
Finally, the fourth generation Ram 1500 was also the first generation to offer a diesel engine option, starting with the 2014 model year. This 3.0-liter Ecodiesel V-6 produces 240 hp and 420 lb-ft of torque. Each of these engines comes with either a 4-speed or a 6-speed automatic transmission. Please note that the Ram 1500 Classic paired back the engine options to either the 3.6-liter V-6 or the 5.7-liter HEMI V-8.
If you are looking to save money while still getting a great truck, you might consider looking at a third-generation Dodge Ram 1500. These were produced from 2002 until 2008, and the later years feature your choice of three great engines. The base engine on these trucks is a 3.7-liter V-6 that produces 215 hp and 235 lb-ft of torque. There is also a choice of two eight cylinder engines, a 4.7-liter V-8 that produces 310 hp and 330 lb-ft of torque, and a 5.7-liter HEMI V-8 that provides 345 hp and 375 lb-ft of torque.
Ram 1500: A Legacy of Accolades
When you buy a new or used Ram 1500, you are buying one of the greatest trucks on the road today. This pickup not only offers the power and capability that is expected of a full-size truck, but it is also filled with unique features that set it apart from the competition. From the awesome off-road capabilities of the TRX to practical additions like the RamBox Cargo Management System, the Ram 1500 is a cut above. Stop by our dealership today and find out why your next truck should be a Ram 1500.