Pacifica or Voyager: Which Minivan Should I Choose?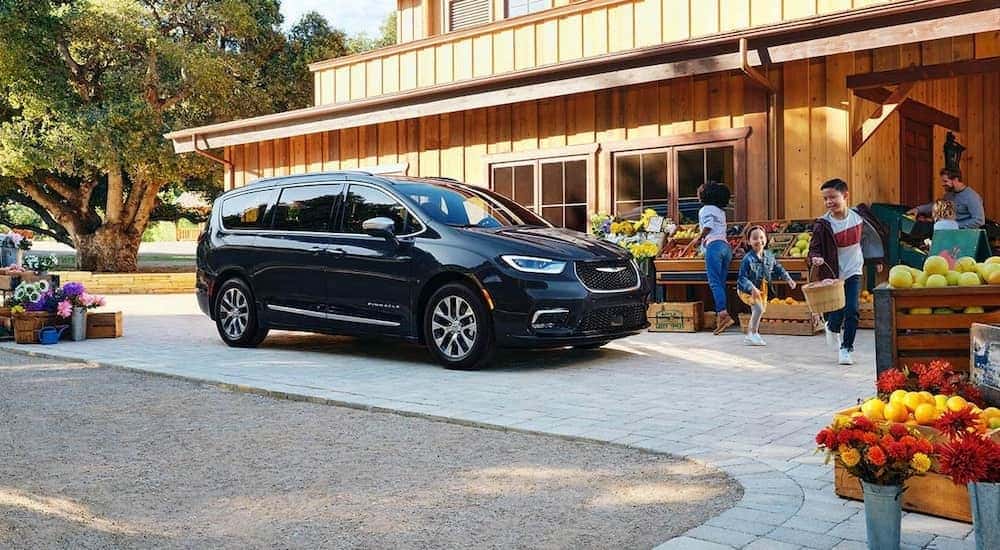 When it comes to the family minivan, you need it to deliver a safe, comfortable and functional ride. After all, you're carting around some precious cargo with packed schedules. Everything from sports practice to car line pick-ups, dance recitals to parent-teacher conferences, kids are busy these days, and your minivan is a central part of all of it, which means that not being satisfied with it is not an option. If it's time to get a new minivan to handle your ever-growing needs, you may be contemplating a Chrysler due to the strong lineup of vehicles. Instead of searching for "Chrysler dealer near me" and trying to guess who is best, let the team here at Dan Cummins of Georgetown help.
Chrysler manufactures some of the most reliable minivans on the road today. In fact, not only are Chrysler's minivans reliable, they're also as stylish as an SUV. So if you're wondering whether you should get a new Pacifica or Voyager, we may be able to lend a hand with some helpful information about both of these dependable options.
About the 2021 Chrysler Pacifica
Being the most awarded minivan for the past four years is no easy feat, but the Pacifica has managed to get the attention of families across the country with its impressive safety offerings, flexible interior space, and all the things you need to keep your passengers comfortable, secure and entertained. The 2021 model year has undergone some extensive revisions, which add to its appeal even more. Now with all-wheel drive available, new trim options, a revitalized appearance, and even more tech, the Pacifica showcases its versatility and functionality to new levels. Its incredible selection of trims, ranging from fairly basic to more refined, help you fully customize your minivan experience. Plus, with its new sculpted look, you may feel like you're driving a luxury vehicle as opposed to the ever-functional family minivan.
Shopping for a minivan feels even more daunting than shopping for any other type of vehicle, simply because there's so much to keep safe and so much to get done in a day. That's why Chrysler pulled out all the stops with the reliable and stylishly practical Pacifica. There are plenty of reasons to love the 2021 iteration of this minivan.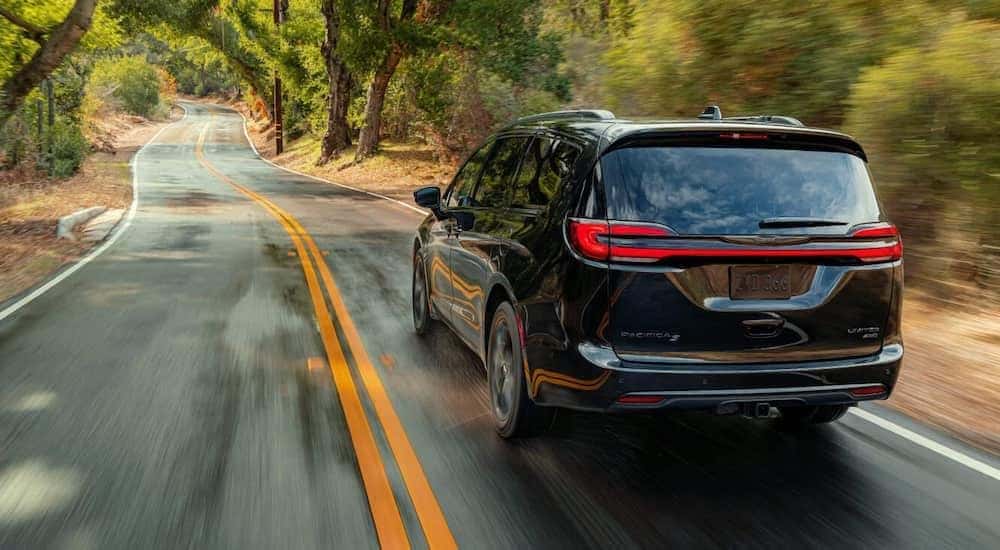 Why Buy the Chrysler Pacifica?
Safety is a huge concern for many looking to transport their families to all the places they need to go, which can be especially tricky when the weather doesn't want to cooperate. That's why the Pacifica offers the most advanced all-wheel drive system in its class. Whether you're navigating through snow-covered streets or traversing rain-slicked highways, your Pacifica keeps you in charge of your ride by distributing power effectively to help you get the most traction on rough terrain. Coupled with the most standard safety features available in its class, the Pacifica proves that you can trust it to deliver you and your passengers to your destination safely and confidently.
Another advantage of the Pacifica is its hybrid option, offering up an extraordinary 82 MPGe combined fuel efficiency. Being able to travel up to 520 miles without having to stop, you won't have to waste valuable time in your schedule standing at the gas pump. The Pacifica's intelligent hybrid system does the work for you when deciding when to utilize its gas engine or its electric motor, helping you maximize your efficiency on the road.
Get to where you need to be faster and do it in style. The Pacifica features a sleek design with polished LED lighting and available foreshadow wheels. Plus, you get exciting interior upgrades like quilted Nappa leather-trimmed seats and premium accents, and more functional options like a hands-free power liftgate to help you load it up with everything you need for the day with ease.
Perhaps the most impressive feature of the Pacifica is its storage capability. With some of the best storage options in its class, the Pacifica utilizes available Stow 'n Go Seating, slide-out bins, nifty compartments, and cubbies to help you find a place to store all your belongings without encroaching on your passengers' space. Be able to enjoy the ride comfortably while enjoying connectivity options on its 10.1-inch touchscreen and take advantage of tech features like a WiFi Hotspot, USB ports, and in-vehicle apps to make your ride better.
Why Buy the Pacifica
The Pacifica is a highly-regarded minivan for families everywhere. The enhanced options for creating a comfortable and custom ride give the Pacifica a leg up when it comes to the competition. The Pacifica even offers up 287 horsepower in its 3.6L V6, which is pretty impressive for any vehicle, and even the hybrid model gets up to 260 horsepower. If you're looking for an exceptionally capable, fully functional, safe, flexible, and comfortable minivan, the 2021 Chrysler Pacifica is a strong option in your search. With an abundance of safety features, plus all-wheel drive available, numerous storage options, and the tech you need to stay focused, your drive just got a lot easier in the Pacifica.
About the 2021 Chrysler Voyager
The most affordable minivan in America, the Chrysler Voyager offers a to-the-point option for those who don't want to overspend on a family vehicle. With room for all and everything coming along with, the Voyager is celebrated as a bargain vehicle that is anything but cheap when it comes to its features. Known to be the step down from the Pacifica, the Voyager proves that it still brings the essentials to the table, along with convenience upgrades and all the tech and safety options you're looking for in your next family transporter. The Voyager is spacious with room for up to seven, as well as functional with innovative storage options.
When it comes to a secure ride, the 2021 Voyager is outfitted with all the latest tech and safety advancements you would expect to find in a vehicle with a much higher price tag. Updated driver-assist technology and enhanced camera and radar sensors help to make your ride better. With two trim options to choose from, you're not overwhelmed with which one to pick, making the Voyager a simple solution to your family's vehicle needs. Choose from a basic trim or upgrade to a more refined trim with heated front seats, satellite radio, built-in DVD player, and more, and be able to travel without worries to your next destination.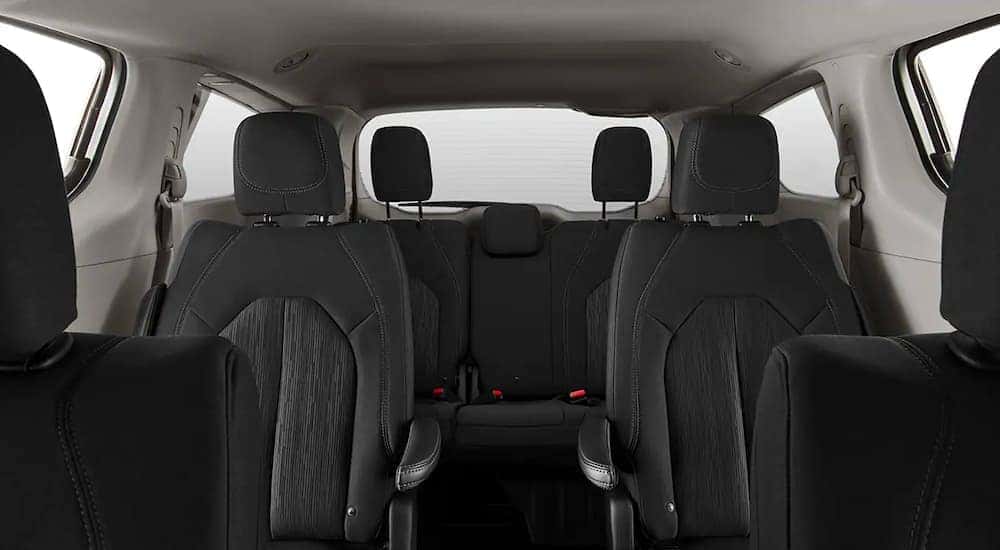 Why Buy the Chrysler Voyager?
The biggest draw that the Voyager has is its perfectly affordable price tag that no other minivan can even come close to, not even the Pacifica, making it a top choice for many families. When you're looking for a vehicle to transport you and your family to everyday activities like band practice, after-school activities, doctor's appointments, and whatever else is penciled on your schedule for the day, you want an option that delivers a reliable ride at the right price. The Voyager offers this and so much more.
Many think that because of its price, it may not have as much to offer as the competition, but that's a big misconception. The Voyager provides families with enough storage options to help make sense out of the everyday chaos. Stow 'n Go capabilities in the rear, along with second-row storage bins and cubbies, allow you to focus less on fitting everything into your vehicle and more on the destination. Its 7-inch touchscreen provides access to connectivity and tech features, and with an available DVD player, you'll be able to keep everyone onboard occupied and entertained. Plus, with Active Noise Cancellation standard, you'll be able to enjoy a quiet, peaceful ride, even in bumper-to-bumper traffic.
You'll also be happy to know that the Voyager gets spectacular gas mileage. Equipped with a 3.6L Pentastar V6, getting 26 MPG combined, you'll be blasting past the pump and saving money. The Voyager includes many features found in the Pacifica, so if you're in the market for a value, you can't go wrong with this minivan option.
Why Buy a Voyager
If you aren't too concerned with adding all the flashy features that build up the price tag, the Voyager is the minivan for you. Producing up to 287 horsepower, you get the same capability as the similar Pacifica for a fraction of the price. Plus, as much as it may seem limiting at first to only have two trim options, you'll be thankful to have one less choice to make during your hectic day. The Voyager is perfect for the family on the go who needs something affordable, reliable, and still stylish looking.
The Right Choice
Ultimately, the choice between the Pacifica and the Voyager is yours to make, which means you may want to consider what you're looking for in a family vehicle. If you desire more options and more luxury, the Pacifica is a great choice. If you're looking for a more affordable option that still offers all you need in a minivan, the Voyager delivers. So, when it comes to the right choice for your family, Chrysler has you covered with a substantial selection of family vehicles. Test drive a new 2021 Chrysler Pacifica or 2021 Voyager at Dan Cummins of Georgetown today! Our friendly staff can't wait to help you find your family's next dependable vehicle.