Ram 1500 TRX Affirms Performance Pickups' Permanence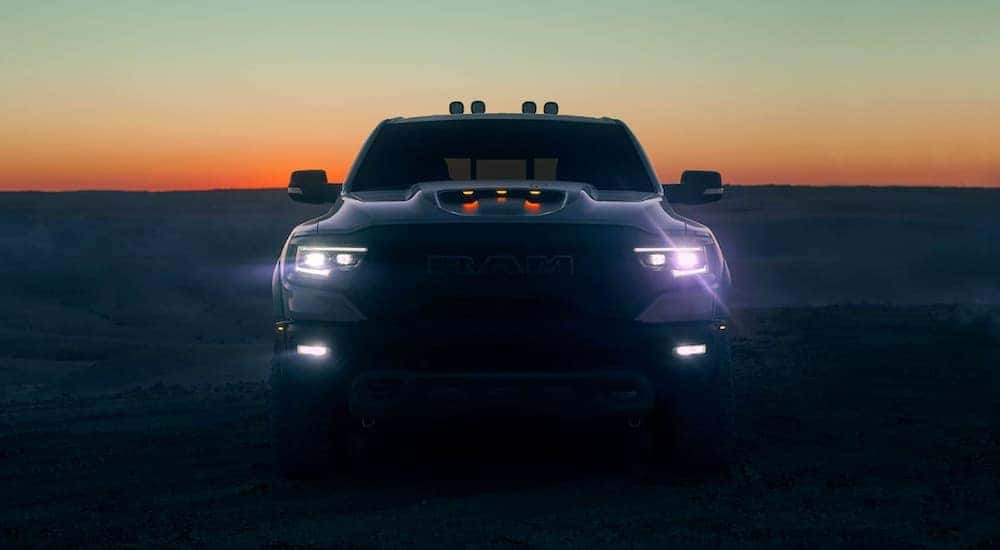 The high-performance pickup truck competition has a new contender, the 2021 Ram 1500 TRX, and it will be available soon at a Ram dealer near you. The TRX allegedly is a shot across the bow of Ford's F-150 Raptor and refers to the T-Rex dinosaur that mauled velociraptors in Jurassic Park. The idea is a T-Rex can devour a Raptor, and the Ram TRX aims to do just that. The folks that design Ram trucks wanted to put the same potent powerplant that beats at the heart of the iconic Dodge Hellcat into a Ram 1500. That would give the pickup truck the power equivalent of a supercar and almost as much performance potential.
Ram recently introduced the result to the entire world while sending notice to a certain pickup truck builder based in Dearborn that a new boss is on the block. The Detroit says the about $70,000 2021 Ram TRX "will battle" with Ford's F-150 Raptor for top honors among the now-firmly established performance pickup niche market.
Its overall dimensions are 230 inches from bumper to bumper, 90.5 inches wide, and 81 inches tall. It comes with a box measuring 5-foot 7-inches in length, and the TRX can tow up to 8,100 pounds and carry another 1,310 in the bed. While you can buy other pickup trucks for work, towing duties, and daily drives, the best reason to embrace the performance pickup class is a simple one: because you can!
Astounding Power and Performance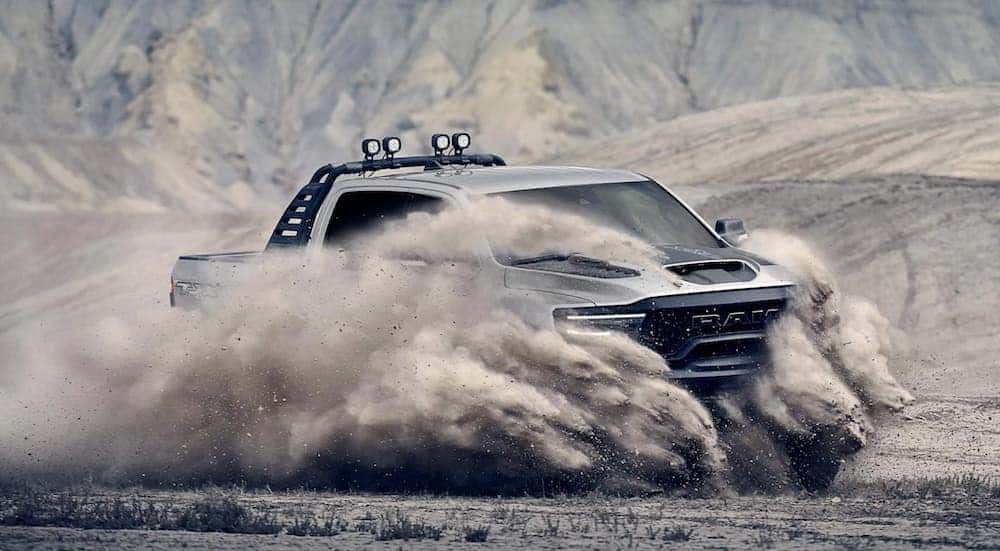 The new Ram TRX is a fantastic truck with exceptional performance enabled by a body that is about 8 inches wider than the base 1500 and has a stronger frame and chassis to handle what it can do. A supercharged 6.2-liter (370-cubic inches ) Hemi V8 delivers a grin-inducing 702 horsepower and 650 pounds-feet of torque under the hood. A roots-type supercharger in the high-performance air-induction system delivers nearly 33 liters of air per minute to the combustion chamber. That enables the Ram TRX to go from 0 to 60 in 4.5 seconds and turn a quarter mile in 12.9 seconds.
A 12-inch lift lets the TRX wear 35-inch-tall tires mounted to 18-inch wheels that benefit from more than 13 inches of suspension travel. An eight-speed automatic transmission with electronic paddle shifters on the steering wheel sends the power to all four wheels. An electronic transfer case supports two speeds and five operating modes: neutral, normal, wet/snow, off-road, and Baja. An electronic locking rear differential helps to provide sure traction and prevent wheel hop.
The electronic driving modes ensure the power gets to the ground no matter the driving conditions. The potent Ram pickup comes with electronic launch-control and launch-assist. When it is time to stop, a pair of slotted 15-inch rotors in front, 14-inch slotted rotors in the rear and six-piston calipers all the way around give the TRX lots of stopping power.
With such a new high-performance truck only now becoming available there are no ratings for fuel economy. The TRX does come with a 26-gallon fuel tank, which suggests a likely range exceeding 500 miles per tank on the freeway. Ultimately, where and how you choose to drive the impressive performance pickup will have the greatest influence on your fuel economy.
Fun and Comfortable Interior
While the TRX is very wild on the outside, the interior offers exceptional comfort for when you actually want a comfortable ride. Four doors and a pair of bucket seats up front and in the rear enable the roomy cabin to seat up to four in reasonable comfort. You also get three interior options, which are vinyl and cloth, leather and suede, or leather and suede with carbon fiber inserts. The choice of interior affects the final price but not the level of comfort or excitement.
Entertainment comes via the Ram Uconnect entertainment system that provides a 12-inch touchscreen to control the fun. The touchscreen is conveniently located in the middle of the center dash in a portrait configuration. The Uconnect system supports SiriusXM satellite radio and can double as a navigation system. You also can get a 4G Wi-Fi hotspot, support for Bluetooth audio streaming, and high-definition radio.
The center console contains a cell phone dock that holds your phone upright and charges it while you drive. That makes it a lot easier to use hands-free communications while reducing the potential for distracted driving. Five USB ports help you to keep laptops, tablets, and cellphones charged. The 4G Wi-Fi hotspot ensures excellent streaming potential while on the go. Its combination of comfortable seating for four, high-tech support, and outstanding entertainment make the interior a real winner.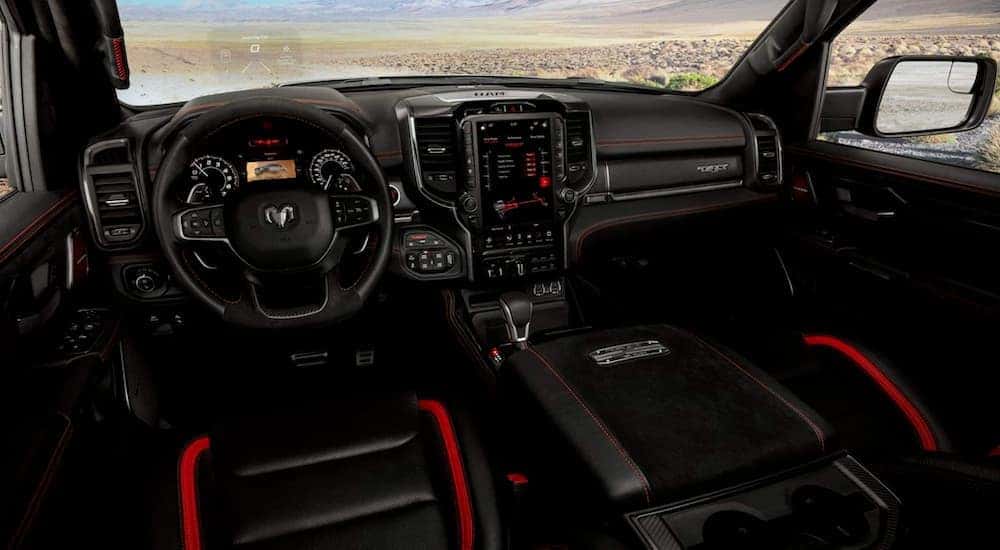 Special Safety Features Ensure a Fun Ride
The RAM 1500 TRX comes standard with some very impressive safety aids. You get lane-departure warning, lane-keeping assist, blind-spot monitoring, and adaptive cruise control. Those safety aids greatly reduce the chance for common fender-benders and other accidents that could add up to a large repair bill on a truck as advanced as the TRX.
Even the digital driver dash offers special goodies, like digital pitch and roll readouts, while climbing hills as well as a digital speedometer, tachometer, and fuel gauge. The system tells you how much power is going to each wheel and enables you to switch driving modes. Those driving modes include a "launch control" that helps to keep things as safe and controlled as possible when the truck is catching full air with all four wheels off the ground.
While they are not necessarily safety features, five driving modes enable you to dial in the perfect ride for whatever conditions you encounter. Those driving modes are sport mode, which quickens the shifting and tightens the suspension for paved roads. The snow mode manages engine power to deliver the best traction on snowy roads. A mud/sand mode calibrates the throttle and torque to prevent wheel slippage, and a rock mode provides an extra-low gear for low-speed rock crawling and other off-road fun. It even has a custom mode that lets you tailor the steering, suspension, torque, and more for the perfect ride.
Helping to control those modes is the most advanced suspension system used on any production vehicle. A five-link coil suspension system uses active damping to control pitch and roll while driving on roadways or going off-roading. The rear suspension allows more than 13 inches of travel, which is 40 percent more than the 9 inches of travel provided by stock Ram pickups. With the advanced Bilstein Black Hawk suspension providing adaptive control, the ride stays as comfortable as possible while ensuring the best possible footing on just about any driving surface.
A Glimpse of the Future
With the 2021 Ram 1500 TRX offering outstanding performance and a surprisingly comfortable ride, the future of the performance pickup truck line looks very bright. Many industry insiders suggest the TRX is short for T-Rex and is a direct salvo aimed at the Ford Raptor. With such an apparently outstanding start, the Ram 1500 TRX affirms the future of the performance pickup market, and it is a truly bright future. Now the only question is: how quick can you drive to Dan Cummins of Georgetown?