The Best Used Truck Options For Kentucky Drivers

Visiting a Kentucky used car lot is about more than just finding a new ride. It's about finding something capable of handling your workload. Whether you're a farmer, a mechanic, a construction worker, or the likes, you need a truck that has power. But brand new trucks can get expensive fast, so we've got a list of great used trucks for Kentucky drivers that will help you find what you need without going broke.
The GMC Sierra 2500
You can never go wrong with a GMC Sierra. However, if you're a Kentucky farmer who plans on hauling heavy farm equipment and large hay bale loads, you want something a little tougher than a half-ton. This is why we recommend the third-generation GMC Sierra 2500. These models can tow up to 17,800 pounds, and you can get them with specialized tow and haul suspension.
The best part about these trucks is that you can purchase them solely for their strength alone, or you can go higher on the trim levels and get one that offers handy tech and safety features. The great thing about the third-generation Sierra 2500 is that GMC offers Teen Driver Mode as standard no matter what trim you choose. So, even if you pick the base-level trim, you can trust Teen Driver Mode to help keep your new driver safe. We know that affordability is important for Kentucky drivers, but so is teen safety – especially when you're teaching your young driver to haul heavy loads and drive with trailers.
Speaking of heavy loads, the third-generation GMC Sierra's payload capacity maxes out at 4,212 pounds. This means you can haul up to that weight in the truck's bed alone, and the long bed option gives you plenty of room to haul off-roading vehicles or tools. Keep in mind that the Sierra is a more stylish model when it comes to its exterior, so you're going to get standard chrome grilles and multiple wheel options on this model. It's a great used truck model for those who enjoy aesthetics and power and don't want an old beat-up work truck look.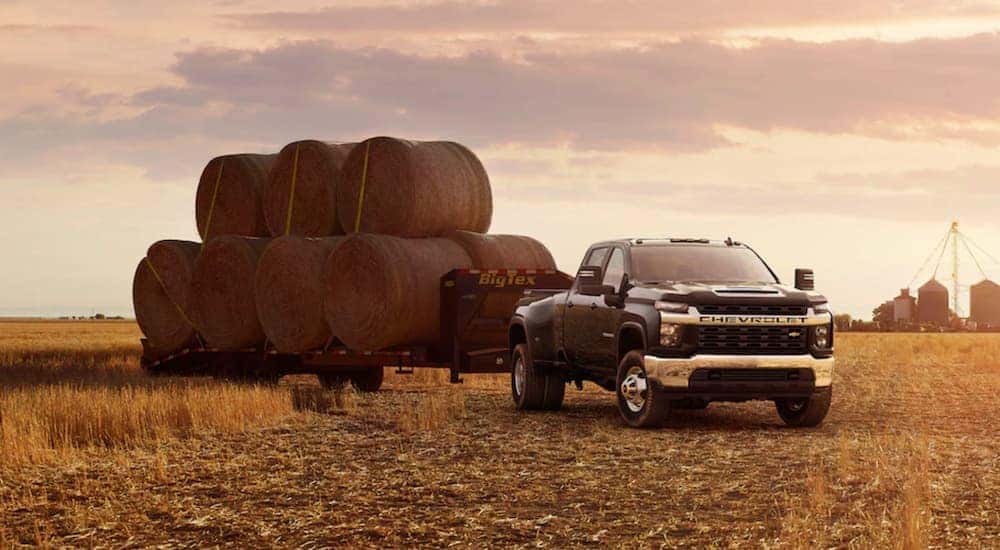 The Chevy Silverado 3500
When you're really getting into some hardcore towing, you'll want to look for a used second-generation Chevy Silverado 3500. This one-ton truck is capable of towing up to 23,100 pounds when properly equipped. We specifically recommend this model to Kentucky drivers who are hauling large pieces of equipment like industrial-sized tractors, which are known to weigh over 10,000 pounds, along with other pieces of equipment such as corn combines or hay balers. Just because you've got the space on your trailer does not mean that any run-of-the-mill truck can handle your load. When you purchase a Silverado 3500, you don't have to worry so much about weight. It can handle pretty much anything you'll need to tow.
These second-generation Silveardos do include safety and tech features, much like the GMC Sierra does. However, their exterior appearance is a bit more casual. They're sharp vehicles, without a doubt, but they're more tailored towards work-specific duties than they are luxury features and aesthetic appeal.
That said, thanks to GM's safety readiness, the Silverado models also come with Teen Driver Mode. While both the Silverado and the Sierra do have a lot in common, the main reason you'd want to choose this model is if you're less focused on aesthetics and convenience and more focused on work capacity. You'll spend a little less on the Silverado than you would on a Sierra.
The Ford F-250
Another top contender for used work trucks is the Ford F-250. We actually recommend looking into the most recent generation, which is the fourth generation. It began with the 2017 model, and these trucks are incredibly tow-capable, with a max towing capacity of 22,800 pounds. The great thing about Ford models is that they do offer more standard features than many competitors do. In this model's case, you can get standard safety features such as a Post-Crash Alert System, Trailer Sway Control which is definitely important for towing, and Roll Stability Control, which helps prevent rollovers when you don't slow down quickly enough before entering a sharp curve.
When it comes to cargo, this model's bed length is roughly the same as the GMC Sierra and the Chevy Silverado as well. So, no matter which model you choose, you'll have plenty of bed space. The great thing about all three of these trucks is that they all come with multiple cab sizes and bed length options. This gives you plenty of variety and flexibility when it comes to finding a truck that matches your specific towing needs. Overall, the F-250 is another great used truck option for Kentucky drivers.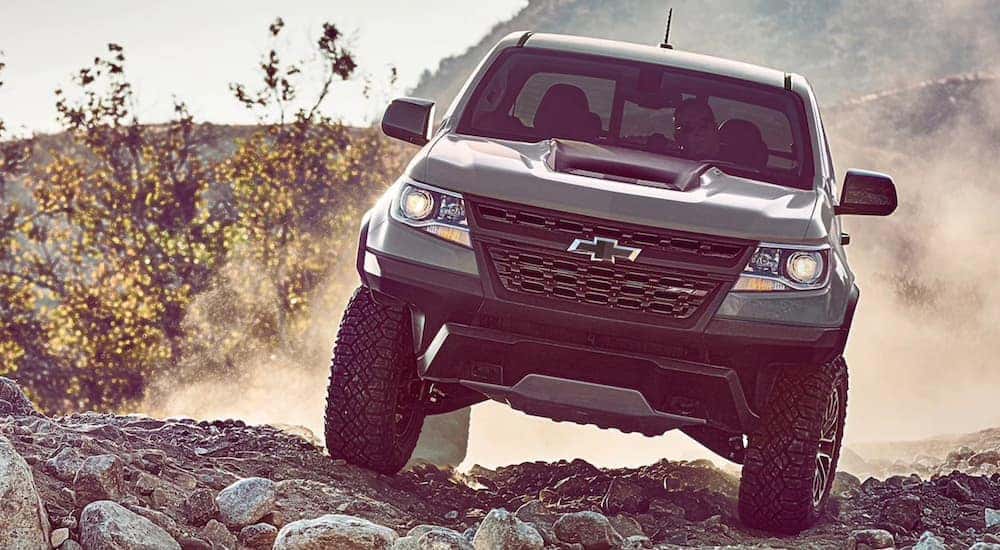 The Chevy Colorado and Ford Ranger
Now, let's take a look at a few smaller options. First up, we've got Colorado. This midsize pickup truck is still tow-capable, but it's smaller framed and easier to navigate. While we don't recommend this model to those who haul heavy-duty equipment, it's a great option for average towing. For example, if you're into off-roading with ATVs and side-by-sides, this model can easily haul your off-roading vehicles from home to trail.
We recommend purchasing a used second-generation Colorado. These models can tow up to 7,700 pounds, and you can get trims and kits that are designed specifically for off-roading if that's something you're interested in. For example, the ZR2 trim includes skid plates, rock sliders, and it even has a factory lift kit to aid its ground clearance.
The Ford Ranger is essentially the main competitor to the Colorado, and it offers many of the same features. However, this model was on hiatus for a while, so you'll want to stick with the most recent generation, which launched in 2019. These fourth-generation Rangers tow slightly less than the Colorado, with a max towing capacity of 7,500 pounds – but that's with the standard EcoBoost gas engine rather than an optional diesel. They also offer Ford Co-Pilot Assist, which includes five important driver assist features. Some of these features include Blind Spot Information, a Lane-Keeping System, and Automatic Emergency Braking.
When you're interested in smaller trucks that are both safe and handy for work, both the Colorado and the Ranger are great options.
Important Specs to Keep In Mind When Purchasing a Truck
First off, remember that the higher the number, the heavier the truck's weight. The heavier the truck is, the more tow-capable it is. Lightweight trucks are great for off-roading and light towing. However, HD trucks such as the Sierra 2500 and the Silverado 3500 are meant for big jobs.
You'll also want to remember that while trucks are tough, most models come standard with two-wheel drive. When you really want the best off-roading experience, you want to opt for that four-wheel drive option. It may cost you a few miles per gallon, but without it, your truck won't perform as efficiently when it comes to hitting the trail.
Lastly, you can save a lot of money by purchasing a base-level trim. They don't include all the additional features that are considered modern, and instead, they are built solely with performance in mind. If you're not one of those people who needs the extra gadgets, remember that base trim trucks can be just as powerful. When you visit your next Kentucky used car lot, be sure to ask about these models and take them for a spin. When it comes to buying a truck, you won't really know what you want until you're behind the wheel.