The Used Car Buying Process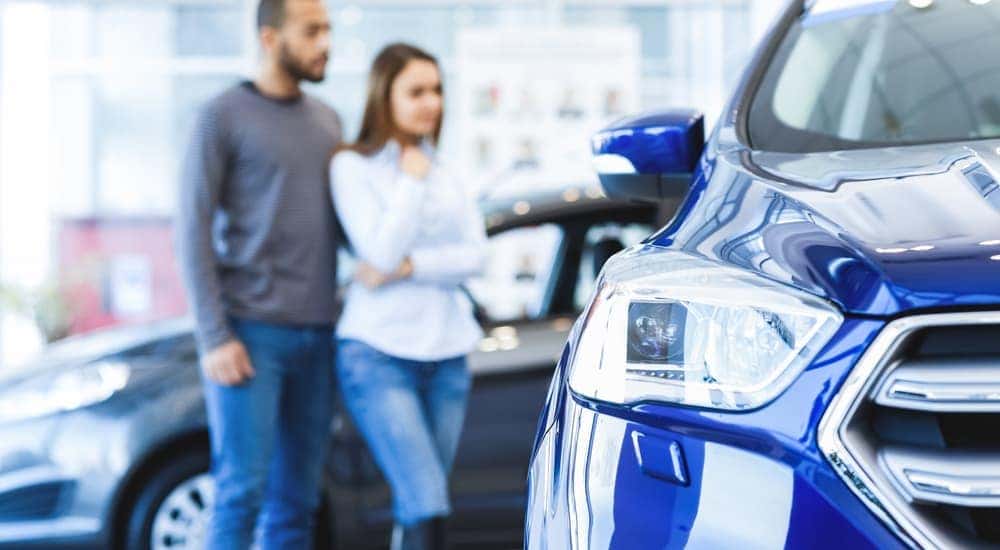 Few things can be as nerve-wracking as buying a car. This is especially so if you are among the many drivers in the market for a used car. You know that you can get the best value out of a car purchase by looking at the many used vehicles for sale, but you are worried about the possible problems. You may ask yourself, "Will I be getting a lemon? What if there is a problem, what will I do? Where can I get it serviced? How can I best protect myself?" You are not alone, and we've all had these questions ourselves.
Perhaps the biggest question is simply, "how does the used car buying process work?" Just understanding how to go from looking for used vehicles for sale to driving out of a dealership in your next used car will help you find a great car at an excellent price. At Dan Cummins of Georgetown, Kentucky, we take all the mystery and suspense out of buying your next used car.
Our process from picking a vehicle class to deciding on make and model to buy, lease, or finance is fully transparent and designed with you in mind. Our goal is to provide you with the best used car, truck, minivan, or SUV for your needs at a price that fits your personal budget perfectly. Stop in today and see for yourself we are the top choice for your next vehicle and years of great driving experiences
Step 1: Finding Used Cars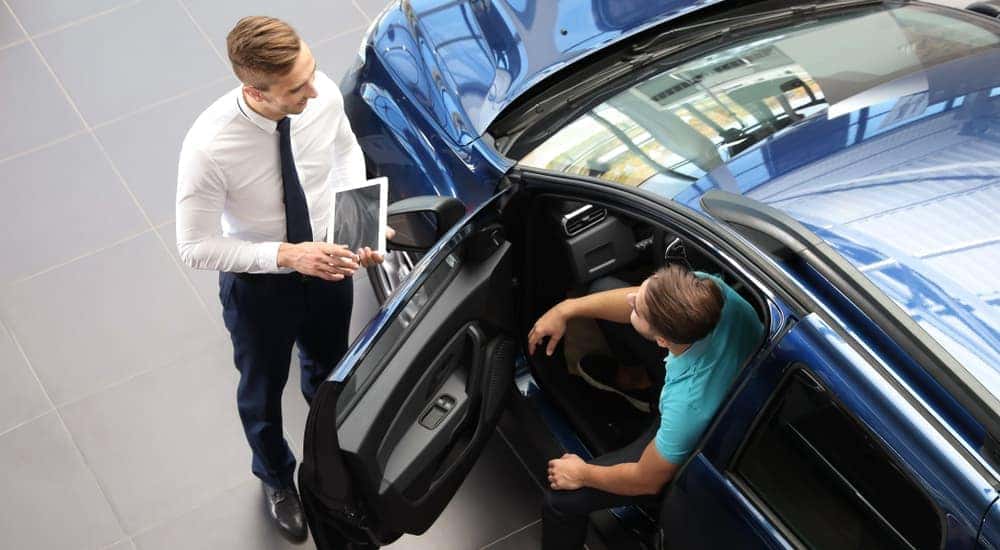 Like with anything else in life, you have to start at the beginning. This means finding used vehicles for sale. You could see if someone in your neighborhood has a used car for sale, but the problem is that you have no way of knowing if the car your neighbor is selling is any good. Let's face it – not everyone is gifted with the knowledge and experience of an auto mechanic. So if you don't have an auto mechanic handy, and if you'd like to avoid any possible animosity with your neighbor, then you should probably look for a reputable used car dealership.
The best used car dealers are local ones with years of experience and a reputation for honesty and fair dealing. They will also work with you to demystify the entire process and be as informative and helpful as possible every step of the way. Now that you've found a dealership, you need to figure out what you want. You may be overwhelmed by the large inventory of used cars, trucks, SUVs, and minivans at the dealership.
If you feel like there is too much to understand, take the time to talk to one of the trained salespeople at the dealership. He or she will be more than happy to find the right type of vehicle for you. If you have a large family, then a compact coupe might not be the best choice. Similarly, if the used car is just for you, then a three-row full-size SUV might be too much vehicle. These days, vehicles come in so many different sizes and configurations that you shouldn't have too much trouble deciding on the type that fits your lifestyle the best.
Once you've chosen the type of vehicle that you want, you will have to decide on a make and model. Choose one that fits into your budget and has all the safety, performance, and infotainment features you desire. The key here is to make sure you are getting all of the items that you have prioritized, including fuel economy, performance, towing ability, cargo space, passenger capacity, and entertainment systems. The knowledgeable staff at a used car dealership can help answer all the questions you have and help you find some different makes, models, and trim levels that fit your needs and budget.
Step 2: The Test Drive
Now that you've arrived at a number of possible used vehicles that you like, it is time to take each one out for a test drive. This is a chance to answer a number of questions. First, the test drive will show you which of the vehicles you've chosen operate as you would expect. This means seeing if it has sufficient acceleration, if it corners well, if the brakes are responsive, and if all the comfort features function properly. Second, the test drive will give you the chance to see how comfortable you feel behind the wheel of each car.
A great deal of driving is subjective, and a car that looks great on paper might not be comfortable for you in practice. It is all about deciding which one handles the way you like. Take your time during the test drive since you want to make sure you are picking a used car, truck, minivan, or SUV that you like. One of the really good things about buying used is that you are not driving a road test model like you might when buying new. Here, you will be driving the actual vehicle that you are looking to purchase.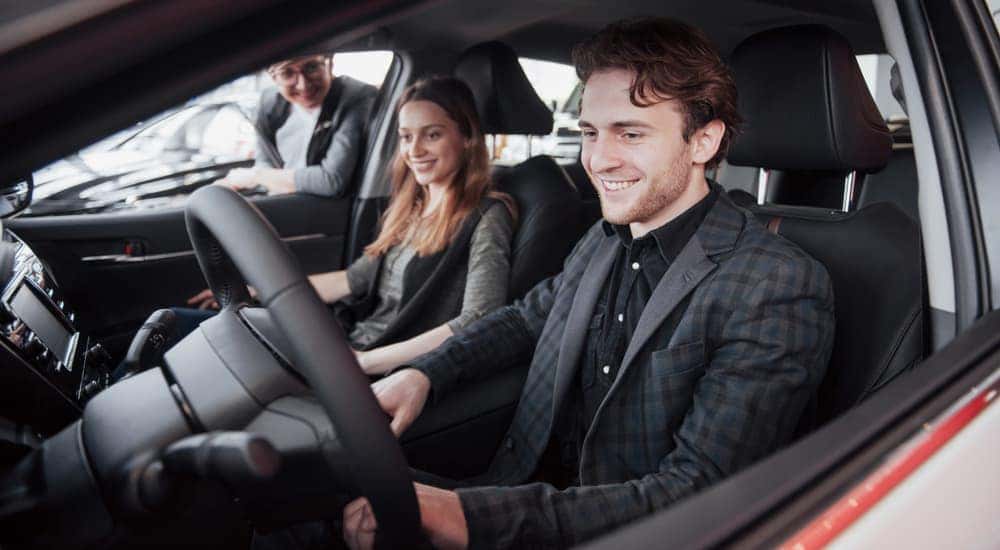 Step 3: Due Diligence
We've all heard the term due diligence, but what does it mean? In simple terms, it means doing your homework. In the case of a used car, you will want to get a vehicle history report from either CARFAX or AutoCheck. This will tell you all the pertinent information on the vehicle, including prior owners, open recalls, service history, and major accidents.
Vehicle history reports can be easily ordered online. All you will need is the vehicle identification number (VIN) for the used car. Many of the better used car dealers will include a free vehicle history report as part of the car buying process. This shows honesty and transparency on the part of the used car dealer, because they know that they can stand behind the used car they are selling.
Step 4: Negotiating the Sale
The most reputable dealers will have fair prices listed for each used vehicle they are selling. This avoids the old bait-and-switch where a disreputable dealer lures you in with the promise of low prices, then tells you they are all sold out of the vehicle you saw advertised and tries to get you to buy a different, less desirable model. By being as clear as possible, the better dealers help you avoid these pitfalls.
The best dealers will also help you find a deal that works best for you. Most of us can't afford to walk into a dealership tomorrow and put down the full purchase price in cash. This is why most folks need to lease or finance their next used car purchase. Your used car dealer understands this and will have a staff of highly trained finance professionals to help you design an affordable financing plan for your used car purchase. Your dealer will provide this service regardless of your financial history and credit rating.
Step 5: Drive Out Happy
One of the objectives of the best dealers is customer satisfaction. They want to know that you are fully satisfied with your used car because they understand that you will probably tell everyone you know about the great treatment you received at their dealership if you leave happy. Similarly, they know that if you are unhappy, anyone and everyone will hear about it. This is why the dealership will want to make sure that you drive home in your used car, truck, SUV, or minivan convinced that you got a great deal on a vehicle you love.
The used car dealer knows that their relationship with you doesn't necessarily end there. The helpful dealer will provide you with routine maintenance, service, and repairs for your used car to ensure you stay on the road. Then, when the time comes, they will be the one you choose to buy your next used vehicle. But until that day comes, you will know that you have a dealership you can count on to fix any problem that might arise with your car.