Top 10 Luxury Features on the Used Jeep Grand Cherokee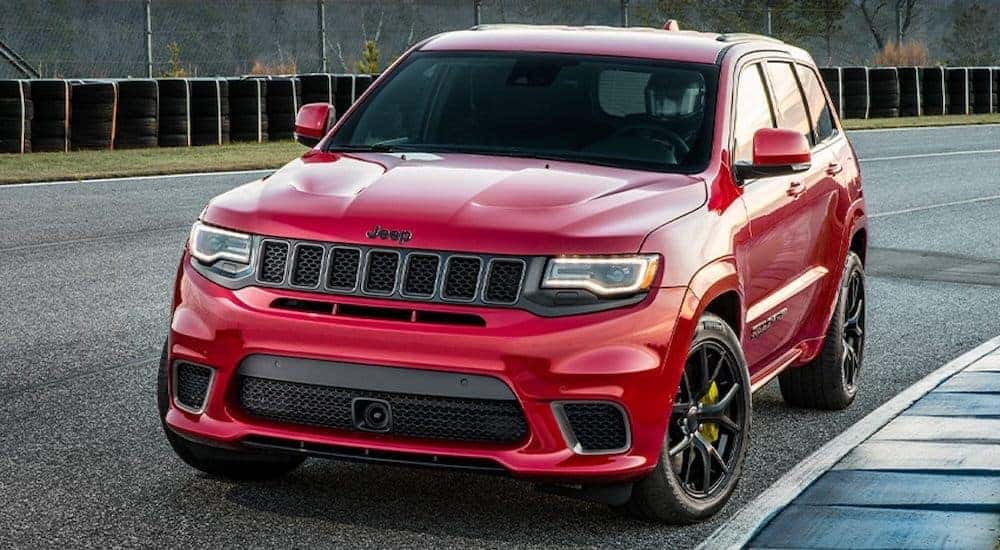 If you are searching for a midsize SUV that is loaded with amazing features, a used Jeep Grand Cherokee might just be the perfect ride for you. With available seating for five people, this model offers 36 cubic feet of storage behind the second row. If you need a bit more room, you can push down the 60/40 split-folding back seats to gain access to 68.3 cubic feet. In this luxury feature highlight, we will break down the top 10 luxury features on used Jeep Grand Cherokee models from the past decade. Hopefully, this will help you gain a little insight into why so many people turn to this model for a vehicle with unbeatable performance and style.
#10 – Heated Seats and Steering Wheel
Looking at the most recent fourth-generation of used Jeep Grand Cherokee models, you will find heated seats and a heated steering wheel in the mid-level trim and higher. This is a luxury that is typically reserved for top-tier models only. However, many of the Grand Cherokee trims come with it. Heated seats allow you to stay warm and cozy during the cold winter months, and nothing takes the bite out of frosty fingers than a heated steering wheel as well.
#9 – Navigation System
The two highest trims that you will find on used Jeep Grand Cherokee models are the Overland and Summit. These both come with a navigation system that will help keep you on the right path. Whether you need to get to a business meeting or you are heading out of town for a conference, this directional system will ensure that you get there on time without getting lost. You can even monitor the traffic in real-time to avoid buildup from accidents or rush hour, getting you to your desired destination as quickly as possible. This luxury feature is one you can't miss out on.
#8 – Dual-Pane Panoramic Sunroof
Another luxury feature that comes on both the Overland and Summit trim levels is the dual-pane panoramic sunroof. With the simple push of a button, the sunroof will automatically open up so that you can enjoy some fresh air. This is a great option for beautiful spring days or drives during the autumn months. If you like to bring nature inside, you need a used Jeep Grand Cherokee Overland or Summit model.
#7 – Lane-Departure Warning
A used Jeep Grand Cherokee can be had with a large number of advanced safety features. Starting things off is the lane-departure warning system. This advanced safety feature uses sensors and cameras to monitor the lines on the road and the vehicles around you. If you begin to drift out of your designated lane, the system will give you a visual and audible alert meant to encourage corrective action.
This feature can help you avoid side-swiping accidents, which can be deadly. The Insurance Institute of Highway Safety (IIHS) estimates that there are about 250,000 side-swipe accidents every year in the United States. These accidents result in approximately 2,500 fatalities every year. Having this feature is vital to help prevent this type of accident.
#6 – Forward Collision Mitigation
Another incredible safety feature that you will find on used Jeep Grand Cherokees is forward collision warning with automatic emergency braking. Using front-mounted radar and cameras, the forward collision mitigation system will detect any obstacles in your path. A visual and audible alert will be triggered if another vehicle is directly in your way. If no evasive action is taken to avoid a crash, the emergency braking system will be activated. This luxury safety system takes control of the brakes to bring the vehicle to a complete stop before impact is made.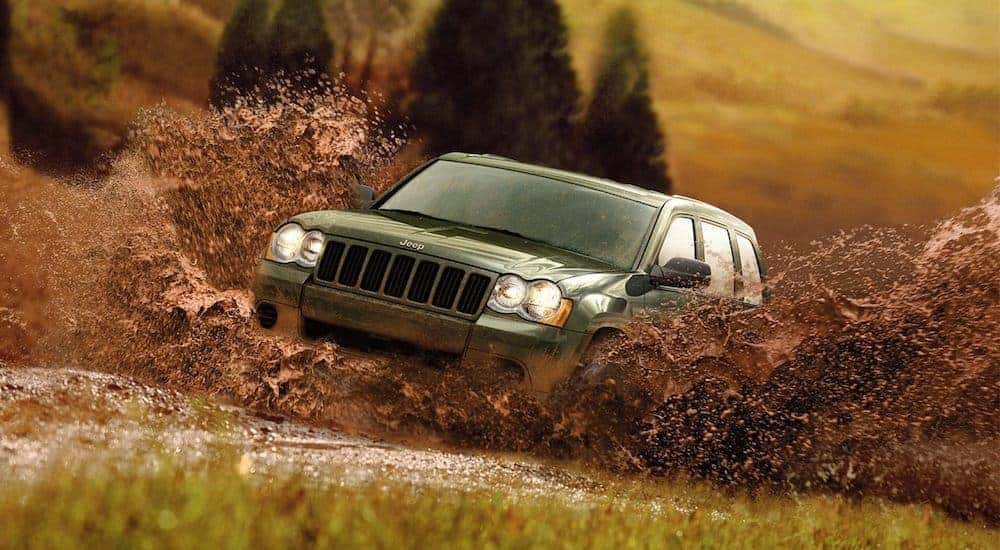 #5 – Rear Cross-Traffic Alert
Accidents don't just happen on the front or sides of a vehicle. They can also occur on the back. Luckily, used Jeep Grand Cherokee Summit models come with rear cross-traffic alert to help avoid accidents while the vehicle is traveling in reverse. This system is activated at low speeds, which generally means in parking lots or garages. It will detect any vehicles approaching from your blind spots, and you will be notified to stop. Backing out of parking places is safer than ever before with this handy luxury feature.
#4 – Blindspot Monitoring
These days, a luxury vehicle wouldn't be complete without blindspot monitoring. Using a series of side-mounted sensors, this system will alert you if another vehicle has entered your blind spot. SUVs tend to have some of the largest blind spots of any vehicle on the roads. Entire trucks can disappear in less than a second, leaving you none-the-wiser about whether or not your blindspot is clear for a lane change. This proactive system will help you drive safely, and you won't have to swerve to avoid hitting a vehicle that you didn't know was there.
#3 – Adaptive Cruise Control
One of our favorite luxury features to see on used vehicles is adaptive cruise control. While most used fourth-generation Jeep Grand Cherokee models have cruise control, the adaptive cruise control system is so much better. You set your desired speed, and the system will maintain that speed until the traffic ahead begins to slow down. The system will detect the change in traffic flow, and it will slow down your vehicle to match the pace. Once the traffic has cleared up and resumed its normal speed, the system will return the Grand Cherokee to the originally set speed limit. It is worth every penny to get a used model with this feature.
#2 – Luxurious and Quiet Cabin
On used Jeep Grand Cherokee Summit models, the aforementioned heated seats are included. However, the upholstery is different. This top-tier trim comes with quilted leather upholstery for a more elegant look and feel. This subtle material is soft and drapes beautifully over the cabin seats. You will also notice that the disruptive noise from the outside world does not penetrate into the cabin during your rides. This is due to the active noise cancellation technology and the sound-reducing windshield.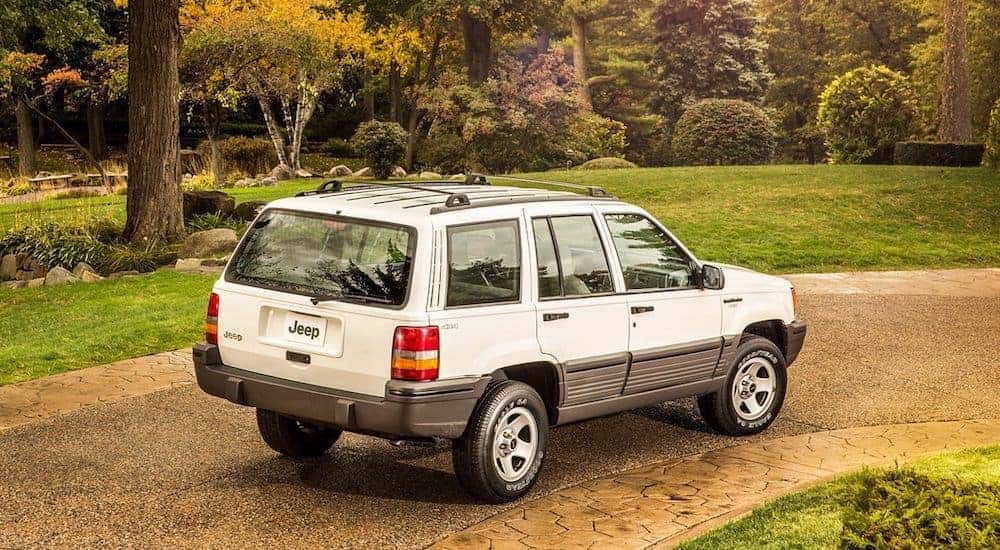 #1 – Self-Parking System
Finally, the self-parking system is at the top of our luxury feature highlight list. This advanced system can handle both parallel and perpendicular parking so that you don't have to stress or hurt your neck. Using high-tech sensors and cameras, the self-parking system will tuck your Jeep Grand Cherokee into a parking spot perfectly. This is not something that you typically see on the average used vehicle. Keep in mind that it is only offered on the top Summit trim.
Find a Used Jeep Grand Cherokee
Are you excited about used Jeep Grand Cherokees now that you've gone through our luxury feature highlight list? We are too! To experience these luxury features for yourself, just come visit our Lexington-area dealership. At Dan Cummins of Georgetown, you will find an expansive inventory of used Jeep models and a professional staff that can explain every feature and spec to you. There is simply no better way to find an SUV that will provide you with top of the line features at an affordable price. So come pay us a visit and discover what Dan Cummins of Georgetown can do for you today.