Used Jeep Gladiator – 2020 Trim Guide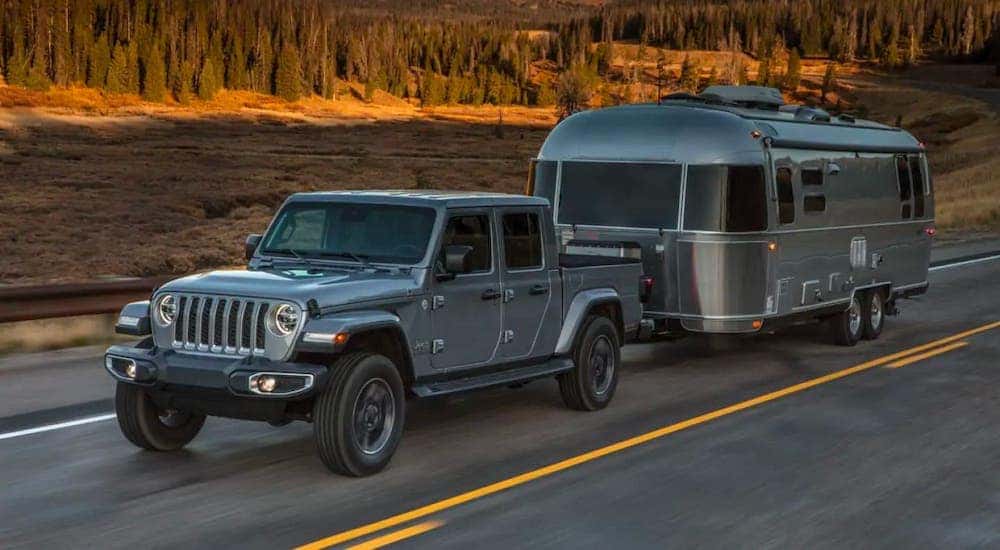 If Jeep is known for one thing, it is adventure vehicles. With the debut of the 2020 Jeep Gladiator, this American automaker has broadened its prospects by appealing to a new crowd – truck lovers! Although it is still one of the newest models in the Jeep lineup, you can find used Jeep Gladiators right here at Dan Cummins. As a midsize pickup that is effectively a Wrangler with a longer wheelbase, this model is ready to hit the trails. In this 2020 trim guide, our experts will walk you through each trim level and what you can expect to find. Before we dive into all the glorious features, let's first run through a quick overview of the truck.
To create the Gladiator, the engineers at Jeep took a four-door Wrangler Unlimited model, stretched the wheelbase, and added a 5-foot truck bed to the back. So, you can rest assured that this innovative model is well-proven and ready for just about anything.
Powered by a standard 3.6-liter V6 engine, a used 2020 Jeep Gladiator pushes out 285 hp and 260 lb-ft of torque. It also comes standard with a 4×4 drivetrain and a 6-speed manual transmission, but you can easily find one with an 8-speed automatic transmission too. With the appropriate equipment, this vehicle can pull up to 7,650 lbs – a best-in-class figure for both 4×4 midsize trucks and gasoline-engine midsize trucks. Water fording, extreme articulation, and enhanced maneuverability are all the same with the Gladiator as they are with the traditional Wrangler. Available in five trim levels, you can find the one that's perfect for your off-roading needs.
Sport
Let's begin our 2020 trim guide with the base model. Known as the Sport trim, this version of the used Jeep Gladiator is anything but basic. Rolling on 17-inch steel wheels with all-season tires, you will be met with a few simple features. These include manual windows, locks, and side mirrors. This helps keep the cost of the vehicle down and makes it more rugged on the trail. The convertible folding soft top is removable, just like a typical Wrangler, and you can take the doors and front windshield off as well.
On the inside, you will be pleased to find a lot of high-tech features. Starting with the tilt-and-telescoping steering column, you can easily adjust the position of the wheel to suit your height. The infotainment system is displayed on a 5-inch screen that shows the feed from the rearview camera. The system is voice-activated and offers Bluetooth phone and audio connectivity for hands-free calling, text messaging, and music.
As for safety, the base level used Jeep Gladiator models come with a cruise control function. You can set your desired speed on the highway and relax for a bit. Also, anti-sway trailer control helps keep your trailer rolling straight so that you won't have to worry about it drifting from side-to-side. Finally, the standard four-and-seven-pin trailer plug allows electricity to power up the trailer lights so that you are also traveling street-legal.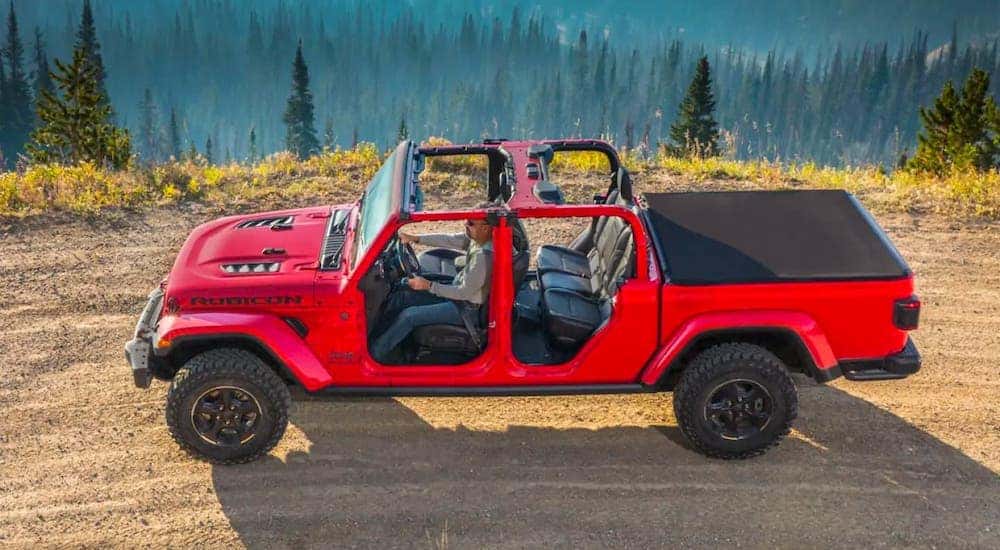 Sport S
Next, the Sport S is very similar to the Sport. The main differences come in the form of power and luxury. The steel wheels have been replaced by alloy wheels, and full power accessories (windows, mirrors, and locks) have been added into the mix. Also, a heating feature has been added to the exterior side mirrors, and an auto-dimming rearview mirror helps to prevent headlight glare from other vehicles traveling behind you at night.
This trim also gets upgraded tech features inside the cabin. With the addition of the Technology Group, you will find a larger 7-inch touchscreen along with advanced smartphone integration. This includes Apple CarPlay and Android Auto. Satellite radio has also been added for more entertainment options, and automatic climate control is a nice touch as well. Finally, the Cargo Group Package adds a 115-volt outlet to the bed and a management system to help keep things organized.
Overland
The mid-level Overland model spices things up even more. Riding on larger 18-inch alloy wheels with body-colored wheel arches, this stylish truck is a head-turner. The rear windows have been tinted to help keep the cabin cool in the summer, and side steps have been installed to assist passengers with getting into the vehicle – these features are especially handy if you are traveling with children. Automatic headlights and LED ambient footwell lighting makes nighttime driving easier.
Slipping behind the wheel, you will find a few interior upgrades as well. The steering wheel has been wrapped in leather for a more sophisticated feel. Also, extra USB ports have been installed in the back of the vehicle, and a 110-volt outlet has been added to the front center console to power larger electronics.
Rubicon
If you are looking for a used Jeep Gladiator that is specifically geared for off-roading, then the Rubicon is your best bet. This adventure trim rides on 33-inch all-terrain tires that can conquer all sorts of ground. Locking front and rear differentials along with an electronically disconnecting stabilizer bar give you the traction and articulation you need to challenge the toughest trails. The transfer case with a lower crawl ratio is also helpful for rock climbing, and the Fox shock absorbers will make the adventure more bearable. For protection while traveling over rough terrain, the fenders have been raised while rock rails and skid plates have been put into place to prevent damage to the underbelly.
Mojave
Lastly, the Mojave comes in as the top-tier model amongst the used Jeep Gladiator lineup. It is similar to the Rubicon in that it is built for off-road adventure, but it does not come with the rock crawling equipment. Instead, the Mojave is designed for desert-running. Its 4×4 transfer case is designed for high speed traction on shifting sand. The frame of the truck has also been reinforced, and the internal bypass shocks from Fox feature hydraulic jounce bumpers that were designed to help absorb impacts better. Plus, the Mohave trim has been lifted by a 1-inch for better clearance. Oh, and did we mention that this particular trim is the first Jeep model to wear the brand-new Desert Rated badge?
Additional Features
Buying a used Jeep Gladiator gives you the chance to get a good price on a vehicle that was fitted with various optional packages. All trims can be fitted with a premium stereo system and subwoofer. If you love jamming out to your favorite songs, look for a used model that has this extra feature. You may also find one that had the auxiliary switch group added to it. This allows you to hook up four electrical accessories to switches in the cab.
A spray-in bedliner to protect the box from scratches is also an option you might come across, as well as a variety of different removable roof designs. Aside from the standard soft-top, you can also find a premium soft-top or a black (or body-colored) hardtop with removable panels. Additional stand-alone options that you could find include LED headlights for optimized visibility, an 8.4-inch touchscreen, and a wireless charging pad for your smartphone. Leather upholstery is also a common option on used Jeep Gladiator models.
Find a Used Jeep Gladiator
Are you excited to start looking for a used Jeep Gladiator for yourself? Here at Dan Cummins of Georgetown, we have a great selection to choose from. And if you have any questions about trims, options, or anything else, our knowledgeable team is here to help. Give us a call or drop by today to find a used Jeep Gladiator at an unbeatable price!