Technology

While the 2022 Wagoneer is a remarkable vehicle in a number of ways, it truly stands out for its innovative use of technology. While modern vehicles from other manufacturers are competing to have larger and larger infotainment screens, going far past the point of practicality in the process, Jeep's new SUV instead focuses on providing a more usable network of integrated screens. It also incorporates exclusive audio technology to create an enveloping infotainment system that caters to every passenger.
50 Inches of Screens
Every Wrangler comes standard with a 10.1 central touchscreen running Jeep's latest Uconnect 5 system with built-in navigation. This is a highly intuitive and feature-rich system that gives you entertainment, connectivity, and directions at your fingertips. But unlike in competing models, this central screen is only one part of the Wagoneer infotainment system. On the Series II Premium and higher models, you will also find a 10.25-inch screen inset into the dash in front of the front-row passenger's seat.
This second screen allows the driver and passenger to simultaneously access the vehicle's infotainment system, allowing unprecedented convenience. For instance, the driver can keep navigation running on the central screen while the passenger acts as the DJ, or the driver could place a phone call while the passenger watches a show through Fire TV for Auto. The passenger can even access navigation or external camera views, giving the driver a second set of eyes for important information.
Finally, there is an available Rear Entertainment system for the second-row passengers. This system consists of two 10.25-inch seat-back-mounted displays with a variety of functions. Like the passenger's screen, they are compatible with Fire TV for Auto, providing plenty of entertainment choices. They also have HDMI inputs and can be used to mirror electronic devices. And if you have children in the back seat, the front seat passenger display can be used to control what is shown on the rear screens.
Quality Sound
The base trims of the 2022 Wagoneer come with an Alpine nine-speaker premium audio system similar to what is found on the top trims of Jeep's other SUV models. This is already a high-quality system, but the top trims of the Wagoneer offer an even better audio experience. This is thanks to an industry-exclusive McIntosh sound system. McIntosh is renowned for its top-of-the-line home audio installations and is now turning its expertise to the automotive world for the first time. The MX950 system in the Wagoneer is truly exceptional, boasting 19 speakers, a 17-channel amplifier, and a 10-inch subwoofer. Carefully tuned to the vehicle's acoustics, this 950-watt system provides unmatched sound quality.
Performance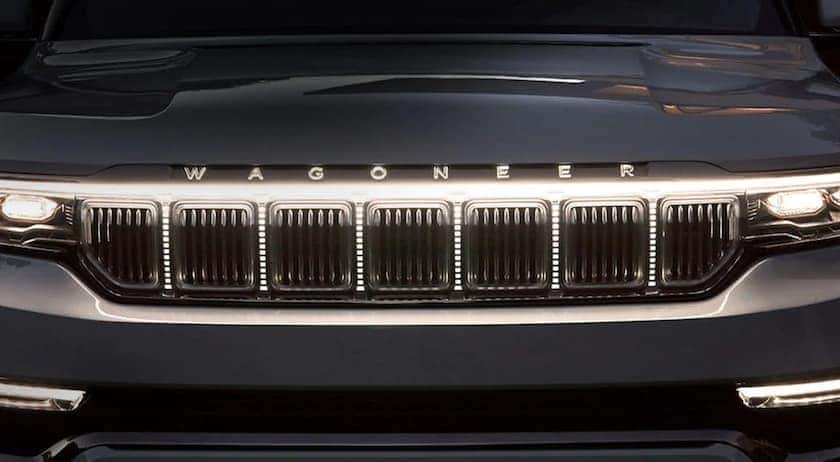 The 2022 Wagoneer incorporates all the best features of a traditional full-size SUV, giving it unmatched performance. Rugged body-on-frame construction gives the Wagoneer the strength it needs for serious towing and off-roading, while sophisticated 4x4 systems and a standard V8 engine allow it to conquer city streets and backroads with equal ease. However, it also includes modern performance features like selectable drive modes and a mild hybrid system to further improve its capabilities.
A Muscular V8
Powering the 2022 Wagoneer is a standard 5.7L V8 engine borrowed from the Jeep Grand Cherokee. However, unlike the Grand Cherokee, the Wagoneer supplements this powerful engine with an eTorque mild hybrid system. The result is a highly capable and remarkably efficient powertrain providing 392 horsepower and 404 pound-feet of torque. The electric motor of the eTorque system also boosts low-end torque, contributing to the Wagoneer's best-in-class maximum tow rating of up to 10,000 pounds. If you need an SUV that can pull a boat, a camper, or a horse trailer, then there is no better option than Jeep's latest creation.
Three 4x4 Options
The Wagoneer comes standard with traditional rear-wheel drive, helping it put power to the ground on the highway or when towing. However, you also have the option of choosing one of three highly capable 4x4 systems. The Quadra-Trac I system is a great option for dealing with bad weather and dirt roads, providing full-time 4x4 across all road conditions. The Quadra-Trac II system goes a step further with a two-speed transfer case. The addition of a 4Lo mode provides additional low-speed traction in the most difficult of road conditions.
Finally, there is the industry-leading Quadra-Drive II system with its rear Electronic Limited-slip Differential. This computer-controlled system can not only instantly detect tire slip and shift power to the wheels that still have grip, and it can even predict when extra grip will be needed so that no tire slip will occur. The end result is excellent performance in all off-road and on-road scenarios. Whichever 4x4 setup you choose for your vehicle, you will be benefiting from the decades of experience Jeep has with designing and building 4x4 systems.
Features

If you are looking for a fully-loaded full-size SUV, then the 2022 Wagoneer is for you. While the closely-related Grand Wagoneer offers even more luxury features, the standard Wagoneer is no slouch when it comes to providing a comfortable, capable, and convenient driving experience.
Hands-Free Driving
Among the headline capabilities of the 2022 Wagoneer is Jeep's brand-new Hands-Free Active Driving Assist system. This advanced technology incorporates existing driver-assist systems with detailed road maps and driver monitoring systems to enable a true hands-free driving experience along approved roadways. Simply engage the system and relax, letting your Wagoneer monitor traffic, lane markings, speed limits, and more. Even when you are not on approved roads, these systems will work with you to keep the vehicle centered in its lane and inform you of the current speed limit.
Air Ride Suspension
Most trims of the Wagoneer offer the Quadra-Lift air suspension system for enhanced comfort and performance. This system replaces the traditional coil springs of the base model with computer-controlled air springs that can adjust the ride height for different conditions and scenarios. There are five different suspension modes that can be manually or automatically selected, ranging from a lowered Park Mode for easy access to two lifted Off-Road modes for safely driving over obstacles. There is also an Aero Mode for improved aerodynamics. Overall, ground clearance ranges from 6.4 inches in Park mode to an impressive 10 inches in Off-Road 2 mode.
Interior and Exterior Camera Views
Driving a full-size SUV can be a hassle, but Jeep has done its best to make the 2022 Wagoneer as convenient as possible. This includes comprehensive exterior and interior camera views, allowing you to easily see everything that is going on outside and inside your vehicle. On the outside, you will find a 360-degree Surround View Camera offering a bird's eye view around the vehicle. You will also benefit from front and rear camera views with integrated lens washers and a Digital Rearview Mirror that offers a backward view unobstructed by side pillars, headrests, passengers, and cargo. There is even a thermal imaging forward-facing camera that can detect people and animals in total darkness, displaying their location via your digital instrument cluster.
Inside the Wagoneer, you will find rear-seat monitoring camera views that will allow you to keep an eye on your passengers without needing to turn around in your seat. This system will display high-definition images on the central infotainment screen, even offering exclusive split-screen and zoom-to-seat functions for greater detail. There are even three infrared lights that allow the camera system to display clear video even at night without needing to turn on any interior lighting and risk bothering your passengers.